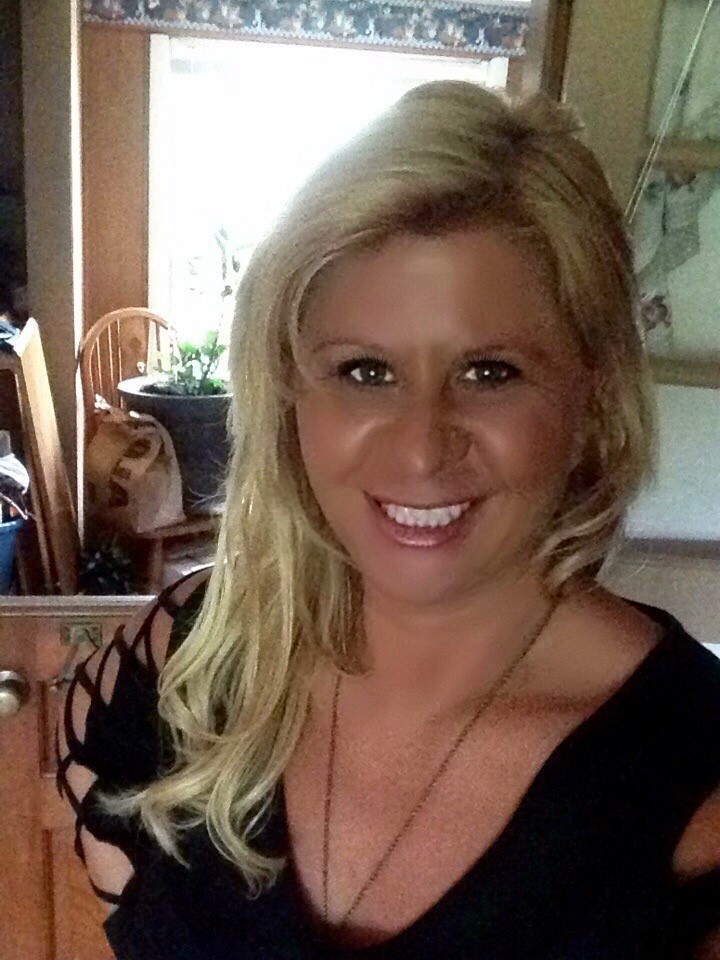 For Amanda Weinhardt it began as a persistent numbness and tingling covering the right side of her body. Believing she had had a stroke, Amanda sought emergency medical help. After several visits and increasing frustration, a CAT scan revealed the truth: She had MS. The diagnosis, which came in 2012, was devastating news.
"The doctor started to explain what MS was, but all I felt was fear," she said. She spent the next six days in the hospital, undergoing further invasive, painful tests. Life for the young grandmother has not been the same since she learned of her illness.
"She used to take regular long walks over the hills nearby and now she can't even attempt it anymore," says husband, John. "Amanda fights a daily battle against fatigue, chronic pain and frustration at doing simple tasks."
Still, Amanda is determined to do what she can to help others who share her plight. The Walk, Rock & Bowl event represents her desire to help people understand the disease while also seeking to raise funds for treatment. Amanda has found help and empathetic understanding via social networking groups online, such as "I Have MS" and "I'm Fabulous" on Facebook. The group has submitted several thousand names in support of her May event in Midvale, Ohio and most will be listed on a large banner to be displayed there. Amanda would like to find help in starting a local support group. "I am determined to do whatever I can, and to be as public about my illness as necessary," she said.
Grace was diagnosed at the young age of 12, she's been living with MS for two years with the help of medications. Her positive attitude and zest for life despite her circumstances is inspiring!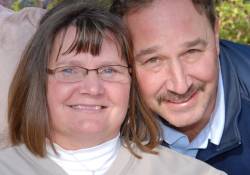 Cheryl Zimmerman And Her Family
The Zimmerman family (Cheryl, Keith, Ryan and Shawn) would like to tell you how their lives have been affected by Multiple Sclerosis (MS) over the past 24 years.
Cheryl's perspective:
The year is 1985 before the symptoms of MS began. I was leading what most would consider a normal life for a newly married, young, working mother. A typical day for me included: getting up, taking a shower, dressing, brushing my teeth, getting a one-year old ready, fixing and eating breakfast, driving to day care and then on to a full day with my first grade class.
A year later in 1986 my body started to change. It started with a tingling in the little finger on my left hand. This tingling eventually progressed to the entire left side of my body. During this year I went to many doctors and had numerous tests preformed. The tingling would at times get worse or go away completely. The doctors and my family were baffled!
Over the next four years, even though I didn't know it, I began my battle with MS.
Now it is 1990. We owned and operated a Fitness Center in Edenton, North Carolina where I taught aerobics classes. We now had two energetic boys, and I performed the daily responsibilities of taking care of a family. My symptoms returned and continually got worse.
In 1991, we left North Carolina and moved to Virginia Beach where I became a special education teacher. Over the next four years the doctors and tests continued. MS, along with other diseases such as lyme disease, are now being suggested as to what may be wrong with me, but none of the doctors or tests could say for sure what I had. Finally, in 1995 the neurologist uttered the words "You have Multiple Sclerosis".
1995 to 2000 were very challenging years for me and my family. I walked with a slight limp, I fatigued very quickly, and the heat and cold had a tremendous effect on my body. I was losing my ability to function, I was going back and forth between using a walker and a wheelchair, I had lost my fine motor skills, I was to the point that I was afraid to drive, I was fighting for my life and losing! In 2000, I was not able to function as a teacher and my symptoms forced me to retire.
My MS has progressed to the point that I can no longer care for myself and I rely on caregivers for all my daily needs. A typical day for me now includes: someone getting me up, someone giving me a shower, someone dressing me, someone brushing my teeth, someone fixing and feeding me breakfast, and doing everything else for me for the rest of the day. My current challenges are finding competent caregivers and surviving in a world which has little time or patience for the handicapped.
Keith's perspective:
After almost ten years (1986 to 1995) of countless tests and doctors - we had an answer. We had no idea what MS was! It was a double-edged sword - the doctors told us what Cheryl had, but could not tell us how she got it. We didn't know if it was going to get better or worse, and there were very few medicines for people suffering with MS. As we became educated about MS, we learned that some people go through life with very few symptoms, some people like Cheryl get progressively worse, yet some people go blind and become bed-ridden in literally months. I think that is when Cheryl and I went through some of our hardest times, not so much physically but emotionally. Now we knew what to call her symptoms but had no control over what was going to happen next. Learning to control your emotions and conditioning yourself to handle whatever the future may bring can be a daunting task!
So here we are. In a short 24 years, our lives have progressed to what we have told you. Yet we are the lucky ones! We have each other, we are blessed with two wonderful sons that support us is many ways, we have an extended family that helps us, we have friends and neighbors that help when needed and keep us sane. Cheryl and I often talk about the people that are suffering with MS that don't have this kind of support.
Now the doctors and tests are better able to diagnose MS. Now the people that have a tingling in their little finger have a chance of new procedures and medicines. These new medicines and diagnosing procedures take dedicated people and money! Having lived through this and knowing this prompted us into action. In 2006 Cheryl, Ryan, Shawn, and I, with a handful of dedicated volunteers, founded The ziMS Foundation. The Foundation has two main goals: raise money and raise awareness! The Foundation has two missions: use that money toward research to find a cure, and to help people with MS survive in their daily lives.
Ryan's perspective:
MS is a disease quite close to my heart. In 1995, my mother Cheryl was diagnosed with MS, a chronic and unpredictable disease that affects the central nervous system. MS affects roughly 400,000 Americans and can impact the body in almost as many ways. I look at my Mom's condition as an influence on my development as a person. It forced me and my brother, Shawn, to assume responsibilities in our home at an earlier age than most of our peers.
As President of the ziMS Foundation, I am excited by the prospect of giving back to my community and finding a cure for this unpredictable disease. My family has given me the support to fulfill my dreams. The Washington Nationals have given me the opportunity to play the game that I love at the highest level in our nation's capitol. I am thrilled to have launched a foundation that I hope can make a real impact in the life of my family as well as many others afflicted by MS.
In 2009 and 2010, I donated $200,000 to the Foundation. I also obtain autographed memorabilia from professional athletes which are auctioned off at the Foundation's Annual Gala. Through my public appearances, I am able to promote the Foundation and help to "bring home a cure" for MS.
Shawn's perspective:
Without a doubt, living with MS has its ups and downs. My mom would never let us look at the negative aspects of how the disease affected our lives. Her attitude was always upbeat and positive. Doing the laundry, cooking and cleaning as a kid was tough to handle sometimes, but all those jobs made me grow up a little faster and learn to handle life's responsibilities sooner.
To tell you the truth, it helped me a lot through high school and especially in college! I was the guy that everybody came to with questions because they knew I would have the answer. How to clean this, how to wash that, and what to cook for dinner were questions I was asked on a daily basis. I was "Emeril Lagasse" for my roommates because of the culinary skills I gained while cooking when my mom couldn't. I also taught a lot of people how to do laundry as well. So, between the adversities that arose from my mom having MS and the positive attitude my mom instilled in me without a doubt made me into the person I am today.
The ziMS Foundation:
The Foundation is dedicated to the treatment and ultimate cure of MS by funding comprehensive support and educational programs. Over the last five years the Foundation has raised more than $500,000. www.zimsfoundation.org
Elaine Chapin passed away on November 1, 2008 after a long fight with MS that ended after three years in a nursing home. Elaine was a mother, a daughter, a sister, an aunt, a friend, a wife and in her final years she was a grandmother. She was also a fighter, an inspiration, a role model and a hero. I had never met a true hero until I knew Elaine.
When we married, Elaine was relatively healthy and while we knew she had MS, she lived a normal, happy and productive life. Sure, she would have her episodes but she always smiled and told us all that "I am fine." Elaine loved life and was the kind of person that everyone loved. No matter what obstacle she faced, she would find the positive and work around it. One of her passions was reading. When her sight started to fail, she got glasses. When the glasses didn't seem to be working as well, she started reading large-print books. When she could no longer read the large print, she got books on tape. That was the kind of mindset that she had and it served her well.
At some point in the late 90's, Elaine's sister took her life. Elaine was very close with her sister and this devastated her. They say that stress is not good for those with MS and I have to agree. It was shortly after this that her health began to decline. After a while, her positive attitude returned but the damage had been done. In a matter of years Elaine went from walking on her own to being wheelchair bound with a variety of health issues that would have depressed the heck out of a normal person, but Elaine kept smiling and laughing and singing.
When her health got to the level that she needed more specialized care than my family could provide, she entered a nursing home. Even there, Elaine kept her positive attitude and radiant smile. Everyone there loved Elaine and she enjoyed her life there as it was. That was not enough to keep her health from declining and eventually she was called home by God. I remember her last days in hospice like it was yesterday. I could tell she was struggling but even through the pain she continued to smile until she fell into a coma two days before her last breath.
I could go on and on about what a wonderful person Elaine was, but I think at this point, it would be better to pass along the words of others as relayed to me in cards and letters by those that she touched.
"Elaine was such a ray of sunshine here at the nursing home. Everyone knew and loved her. She knew how to have a good time and was so upbeat in spite of her health." – Nancy (Activities Director at her nursing home)
"I will always remember Elaine's smile. It was radiant and perpetual and the window into the soul of a loving, giving person. As Elaine's ability to talk at length faltered, her smile took over. It said much more than mere words could have - that she was a woman of grace, good humor and resiliency. She was a true warrior against a disease and refused to bow to it. But her smile belied all of that. It was an inspiration that will remain with me always." – Cathy (Elaine's cousin-in-law)
"Elaine came into my life like a breath of fresh air. She loved me and I loved her. I admire Elaine so much for her sense of grace. Knowing she had been dealt a bad hand, she still smiled every day." – Liz (Elaine's mother-in-law)
"I always have very fond memories of Elaine. She was the sister that I never had and someone to look up to. Her faith never failed her, even when most of us would have been cursing the god's for being the one hampered with MS. She was always upbeat and optimistic about life. As much as I miss her, I am happy that right now she is probably dancing in the halls of heaven with a piña colada in her hand. No one deserves it more." – Karen (Elaine's sister-in-law)
"Elaine was here with us only a short time. Her warm smile and gentle personality will be missed. She brought a lot to us who knew her. I will always remember her." – Shirley (Nurse at her nursing home)
This was the woman I knew. This was the woman I married. This is the woman that I miss dearly. To honor this woman and her life, I started a scholarship fund in her name that benefits students that are impacted by multiple sclerosis. Whether it be a student with MS or a student that has a parent with MS, I want to help because I know that Elaine would want that. I want to make a difference in her name, in her memory.
If you know of a student that might qualify for these scholarships, please let them know about this opportunity. I am awarding (7) $1,000 scholarships for the fall 2010 school year and expect to do that each and every year as long as I am alive.
Hey folks,
I'm Moby in the Morning. I do an independent network country music morning radio show based out of suburban Atlanta, Georgia.
You'd be doing me a favor if you'd check out my website: www.mobyinthemorning.com. Like you, I've been a Clay Walker fan for many years, but unlike many of his fans, I wasn't frightened for him when I heard he'd been diagnosed with Multiple Sclerosis in 1996.
I knew he'd get the proper care, be aware of himself, and go right on with his life and career. I was also diagnosed with MS back in 1984, and although it did scare the dickens out of me, I made the decision to just "ignore it, and it'll go away." Well, that didn't work out very well.
It took several years for me to realize that with proper caution and care, I was as bad off as I would ever be. Ultimately, I ended up with daily injections of Copaxone, just like Clay does, and it "ain't that big a deal."
Through the years, I've had a few weaknesses or a tingling in my extremities. So, back to the neurologist I went, got a good going over, and I was hunky dory in no time. Then in the mid-90's, I met Dr. Katherine (Katie) Klotz, and have the comfort of knowing that if I feel anything out of the ordinary, she'll see me and make me all better. She put me on Copaxone several years ago, and I've not had any trouble since. Although I do wish the scientists would make it in pill form. One thing I did do wrong, and I'd encourage others not to make the mistake I did.
I intentionally kept myself ignorant of the disease. I had the mindset that if I don't acknowledge it, it can't get me. Well, that was stupid. Remember I did have a few occurrences early on after my diagnosis. Well, gee guess why!! I didn't take care of me, and that wasn't smart. I should have faced it like I had a backbone, and not gone through the denial phase. But in the long run, it turned out OK for me. Thank God for His protection of the thick-headed. Let me start at the beginning, and try to share the entire story. That in itself is a bit weird for me, because I never really have.
As a matter of fact, I never publicly admitted to having MS until Clay made his diagnosis known. Then his fans were calling into my show in large numbers grieving for him like he was just before making that one-way trip to St. Peter. As wonderful as that will be, it's neither his time nor mine yet. I told them that it would be alright, and that they'd be enjoying Clay for many years to come. I told them that I had it too, and it had never slowed me down a bit. I told them that most MS patients are diagnosed in autopsy. (Well, I'll be darned, this guy had MS. Who knew?!?)
Basically I told them to calm down, and let Clay give all of us the many, many musical gifts he still had under that cowboy hat of his. Time has proven me right. Don't you just love him? I know I do. Keep goin', Clay. Heck, he even invited me on stage one time to sing "Then What" with him during one of his concerts I was MCing. I just had to include that picture here. Forgive me. He told me he'd never invited anyone to do that before, and he hadn't done it since. Wonder why? (Burn me once...I get it!) Bless his heart. But my grandmother used to love to hear me sing. And I did put out two CD's that raised over $100,000 for two fine charities (Special Olympics & Cystic Fibrosis). Granted, those CD's aren't really for music lovers, but we had a good time making them, they raised a lot of money and some of that stuff is funny.
Granted, I'll never challenge Clay Walker with my voice or how I look in Levi's, but there ARE those that tell me I'm a pretty fair morning DJ. (I hope they bought one of my CD's.)
Oh, I promised to tell you how MS discovered me, and I digress. I frequently do that, but I've got a good heart and a kind spirit. So, just put up with me, and we'll get through this together. Yeah baby?
In early 1984, I was working for ABC radio and the number one DJ in Houston, Texas. I was playing Rock n' Roll, and having the time of my life. I was what they called a "Shock Jock" and ruling my radio roost.
I was standing in a place that not many young men from Crossville, Tennessee get to stand. I was living large, and very bulletproof. My mama (God rest her sweet soul) was very proud of her baby boy, and my daddy bragged about me to his beer-drinking friends. I'd been through one marriage already. So, I was single and very available with a quarter million people listening to my show every morning, five days a week. I was madly in love with 6 or 7 different women at a time. People in print media were putting my picture on the cover of magazines. I was on TV a whole lot. I was MCing telethons. Shaking hands, hugging babies, gripping & grinning all over the biggest city in the biggest state in America.
Then I started having something happen in my left eye. It was like someone had shined a bright light there, and the eye wasn't recovering from it. It was just weird. I went to my optometrist, and she did some tests. She found out that my blind spot on the left side was enormous, but she didn't know why. She sent me to an MD, who in turn sent me to a neurologist. Thank the good lord I was in Houston, because the medical technology there has always been ahead of the curve.
This was before MRI was called MRI. It was NMR (Nuclear Magnetic Resonance). Ultimately, the word "nuclear" scared people, and they knew they'd one day have a president that couldn't say it. So, the name changed to MRI (Magnetic Resonance Imaging), but it's the same darned thing. After a long NMR exam, they told me they couldn't be sure, but they thought they saw a lesion. So, they were going to diagnose Multiple Sclerosis. If memory serves, I was given large doses of some sort of steroid to take, and sent home. That clinic was on the 8th floor of the building, and I stomped down the stairs, determined it wouldn't get me!!!
Well, the symptoms subsided; I finished that round of medicine, and sort of decided to forget what I'd been diagnosed with. That seemed intelligent. Well, as so often happens in this radio game, the dream gig came to an end. I was approached by an agent in 1986 that told me how much better I could be doing. As dumb as it was for me to ignore my MS, it turned out equally dumb for me to listen to a manipulative agent/lawyer without considering his agenda. As it worked out, he represented another morning radio show that he wanted to find a place for in Houston. In those days, I was knocking off Houston morning teams one after the other, and the best way for him to compete was to sign me, find me a better job, and get me the heck out of his way.
During those latter Houston days, I'd met and married Kelly, and we had made my son, Jonah. The name was my wife's idea, and I loved it. (Moby, Jonah and the whale.) He was being named after me, and still had his very own beautiful name. So, I was off to Dallas and another morning show in 1986. Me, my wife, and my child. Things went pretty darned good there. I was on Oprah, and Nightline, mentioned in People magazine, Us magazine. I was mentioned in USA Today. I was on the CBS Evening News, the CBS Morning News. Ted Koppel called me a crazy SOB on his show, and at the time I thought that was a good thing. So, the Moby train chugged right on down the track until MS made itself known to me again. I was having tingling and a bit of weakness, and felt I needed to have somebody take a look at it. We found a neurologist in Dallas, and for the life of me I can't remember the man's name. But under his care, I had what was now called an MRI. It was the same as the NMR from '84, but the president would be able to say it in the future if he needed to.
Looking at the results was scary. I'll never know if the technology had progressed to the point where we could now see them, or if the number of lesions had multiplied by a thousand fold over those few years. But there were an unbelievable number of them, and what had been "they thought they saw a lesion" had become "Oh my god!!!"
My brain looked like it had measles. The spots were everywhere. Surely this patient must be bed bound with a catheter, and on his last legs. But even then, a large round of medicine, and the symptoms, thank the good Lord, disappeared. Then, the "no compete" agreement expired, and I was back to Houston radio for a couple of years with no further episodes of MS. I'd been told for years that with the accent I had, and I did (being raised in Tennessee, I sound as country as a gourd dipper – look it up.) that my future should be in country music radio. There was an offer that came to the table to move to Atlanta, and again work for ABC radio, but in the country format. The money was almost stupid in proportions, and the people in control were more than willing to take the chance that country was indeed the next big thing for me. It was funny.
I hit the country Atlanta airwaves in 1991. Garth was huge. Randy Travis was a legend. George Strait was in his first two dozen number ones. And in some Texas high school, there was a boy named Clay Walker that I would someday know. I told the audience, "I come to you with a history in rock & roll. But I've always loved country music. That don't mean I know a lot about it for now, but I promise to learn. I'll make a deal with you fine folks. You call and ask me a country music trivia question, and if I know the answer, you win a prize." Me and that country radio audience fell head over heels in love with each other, and in two rating periods, I had unseated an Atlanta radio legend, and after that all he saw were my tail lights. Folks called it a fluke. I told them that a fluke was the tail of a whale, and that's all I'd ever let my competition see. These were my 1990's. I was awarded ACM DJ of the Year. I got five consecutive Billboard DJ of the Year awards.
ABC granted a long-time dream of mine in 1993, and syndicated my show. Ultimately it was carried by over thirty, nearly forty different radio stations. Ain't that cool? MS didn't decide to show itself again until about 1997. More weakness, more tingling, and MS introduced me to Dr. Katie Klotz. That sweet, kind-hearted, gentle woman kicked my butt, but in a very loving way. She didn't chastise me for ignoring this demon within me, but she let me know that it wasn't ignoring me.
There was a new drug on the market she wanted me to try. It was called Copaxone, and was only deliverable by daily injections. I agreed to give it a shot (if you'll pardon the pun). We began with more pills to make the symptoms go away, and then segued into the shots. It's a tiny needle, and it's not that big a deal, but we're sending probes out of the solar system for goodness sake. Why can't they make this into a flippin' pill? I'm just sayin' ... In any event, this pretty much brings us to the current day Moby. In 2002, the Atlanta station told me I sounded too country for country radio, and "didn't renew my contract." I couldn't believe how much that felt like being fired.
I was on my "favorite wife yet" number three, Mary Beth. She's still at my side, by the way, and promises me I won't be able to afford number four. We have such a great relationship. I've never loved a woman more. I vowed to forsake all others if she'd have me and I finally truly meant it. In 2003 we adopted a little girl that we named Grace Marie who'll be five in July. I'm tightly wrapped around her pudgy little finger, and I love the view from there. I told Mary Beth that we now had an option. I could take an audition tape, sell everything and we could move. Or would she listen to a vision I had. She listened, and asked me wouldn't I rather try and fail than not try and always wonder if we could have done it. God bless her.
We started an independent radio network that nearly three years later is profitable, has a dozen affiliates, and means that Gracie will grow up with something that this radio man couldn't give Jonah. Roots!!! My health is good. MS is still in there, but just as in 1984, it's not going to get me. My goal is to build my network, and one glorious day walk Gracie down the aisle, and place her hand in the hand of another. Then I'll smile, shed countless tears, and wait for grandkids. I think that's about when I'll be ready for that one-way trip I mentioned earlier. Katie and Copaxone will keep the MS demon at bay until I get where I'm goin'.
Thank you for letting me share my story. Pray for a cure to a monster that for some unknown reason has spared me and my family any real suffering. God has been so kind to this ol' radio man.
Yeah baby,
MOBY
Fall into these arms of mine
I'll catch you every time you fall
Go on and lose it all
Every doubt, every fear, every worry, every tear
I'm right here Baby fall
When I first heard Clay Walker sing those words, I cried. Clay's song "Fall" could have been all about me and my husband. It expressed how Pat has always been there for me with my MS. I still get choked up when I hear it.
That song was just one more reason Pat couldn't pass up the chance to bid on the acoustic guitar autographed by Clay Walker, someone else who understands all about living with MS. Clay wasn't able to attend the 2007 National MS Society Conference in Dallas, so he had donated the guitar for silent auction, and Pat wanted me to have it.
But how did we get to this conference? Well, it's a long story. Let me tell you about my journey with MS, how MS has helped to change my life in so many ways, and how the National MS Society has been a big part of that.
So where do I begin. I first felt something might be wrong in August of 2000 when I would bend my neck forward and get a tingling, pins and needles feeling running across my chest and shoulders going down both my arms. This found me visiting my primary care physician and being sent for a neck x-ray, which resulted in a neck MRI, which prompted a call from my doctor's office requesting an MRI of my head. Needless to say, that got me a little concerned. When the MRI results had come back on my neck they showed an abnormal lesion there which indicated that it could be one of three things: a tumor, inflammatory process of my spinal column, or MS. Great, was I supposed to pick the one I liked the best, how about none of the above!
As soon as MS was suggested I began checking on the Web and found my symptoms matched the description of Lhermitte's Phenomenon which can characterize MS. After almost blacking out at work a few days later I was again in their office only to have the nurse practitioner come in to give me the news. The MRI of my head showed more lesions, it was most likely MS. I felt overwhelmed and so small; I cried.
The tears came again when I got home. Then I pulled myself together and thought this is silly, crying isn't going to help. So I spoke four simple words offered up in prayer, "Thy will be done." I was filled with a sense of peace as I called my boyfriend, now husband, at the fire station and gave him the news. He immediately told me that whatever it takes, "we" would get through this that he would always be there for me. And he has been. As Pat always tells me, you don't have MS, "we" have MS.
Through the appointments and tests with the neurologist, through the lumbar puncture nightmare that required two additional trips to the emergency room for them to perform blood patches when the puncture wouldn't close, through all of this and more Pat has been there with me every step of the way. He is my hero.
When my diagnosis was confirmed on Friday, October 13, 2000, you would think that would have proven to me that Friday the 13ths are unlucky. But I was born on a 13th and have always felt an affinity with those special Fridays. So even though that was when my diagnosis of MS was confirmed, it was still a lucky day for me. I'll explain.
At the time of my diagnosis I was in the 21st year of my career with the City of Tacoma, Washington as an Administrative Assistant in their Retirement Office. Since I had started with the City at a very (very) young age, I needed 30 years to qualify for full retirement benefits. Something I had certainly planned on doing.
Unfortunately as many of you know, MS follows its own path and what I didn't know was that it was going to start throwing the following obstacles my way: balance problems that literally had me bouncing off the walls, vertigo making me so nauseous and dizzy that I couldn't make it through the day, loss of muscle coordination so that I began dropping things or tripping over lint on the floor, constant pain in my legs, and fatigue that would roll over me like a wave.
Worst of all though, for me were (and are) the cognitive problems. Making mistakes so that my co-workers had to not only do their work, they also had to check mine. Well that couldn't go on. And it didn't. Nine months after diagnosis, my career WAS over.
Fortunately, due to the generosity of two retiring firefighters I was able to stay on paid leave until finally retiring April 1, 2003. Even though I had been on leave for a long time, retiring was still so FINAL.
"What do you do?" can be a painful question when posed to someone forced to give up a successful career because of MS, especially if you have no visible signs of illness. I faced a crisis of self-worth after retiring from my job. I had often defined who I was by my profession and role as a working woman. When I was forced to retire at 48, I worried constantly about my place in society as well as the financial burden I felt I was placing on myself and my boyfriend.
For many of you reading this I'm sure that work is a major part of your life and your identity. You're the vice-president of a bank, a department director, or an employee they just can't do without. HOW WOULD YOU FEEL IF SUDDENLY THAT WAS TAKEN AWAY? That happens every day to people with MS. I was lucky though; I was able to redefine what "self" meant and found a sense of pride through volunteering and hopefully making a difference in the lives of others living with MS.
How is that possible? For me it was simple, the National MS Society. A friend of mine, Roz Hewsenian, knew all about the National MS Society. She was a consultant for our retirement system living in California who had a college roommate with MS. When my diagnosis was confirmed she was one of the first people I told. She insisted on me seeing a top doctor in the field and would fly me wherever I needed to go. After contacting the NMSS Home Office she sheepishly called and asked me if I could manage the trip to Seattle, 30 miles away. One of the top neurologists in MS was right in my own backyard. He's my doctor now and I thank every day for Dr. Jim Bowen and his nurse practitioner Bobbie Severson.
Because of my friendship with Roz and her knowledge of the Society, the first place I checked out was the National MS Society website and started reading. I wanted to know anything and everything I could about what I was up against. Their "Knowledge is Power" series began arriving shortly in my mailbox. It was just the first item to go into my extensive library on MS. From the very beginning with their referral of Dr. Bowen and "Knowledge is Power," the National MS Society has been there for me. I'm still trying to repay them for all they do for me. I don't know if I ever will.
My involvement with the NMSS Greater Washington Chapter began with the Tacoma MS Walk just 6 months after being diagnosed. At the time I thought I was handling everything well considering I had just been told that I had an incurable, debilitating disease. Boy was I wrong!
The day of the walk, Pat and I showed up at beautiful Pt. Defiance Park in Tacoma ready to take part in the event. It was an unusually sunny April day and that wasn't the only thing I would find surprising. I had no idea there would be so many people there. All those people walking to find a cure for MS. All those people walking for me! I started to cry and Pat just held me close. Since that first walk in 2001 we've done the Tacoma Walk every year. Two years later I joined the Tacoma Walk Committee. But that wasn't enough. I wanted to do more. In 2004 Team OptiMStic was formed, we had just 4 members but we raised $5,766! Our friends and family team has grown to over 24 members now and since that first walk in 2001 we've raised $51,148 for the National MS Society.
At the same time that I joined the Walk Committee I decided that I wanted to do more, it still wasn't enough. There was a volunteer position that sounded very intriguing so I asked some of the development staff at the Chapter what they thought. They gave me thumbs up and I became an MS Ambassador. This gives me the opportunity to speak at corporate lunches, team captain rallies, programs and in-services; attend health fairs and help host chapter events. I get to speak about my life with MS, something I have been open about since I was first diagnosed. Of course if you had told me when I was still working that I would be comfortable speaking in front of hundreds of people I would have said you were insane! But now it's really easy; guess it helps when you're passionate about the subject matter. I love talking to people about MS and if I provide just one person with a bit of comfort or information, it's all worthwhile.
Locally for the Greater Washington Chapter I'm an MS Ambassador; co-chaired the inaugural Tacoma MS Luncheon in 2005; Self-Help Group Leader; Self-Help Group Leader teletraining facilitator; event volunteer/committee member; member of the Government Relations Committee, chapter volunteer; and captain of Team OptiMStic. Nationally for the Client Programs Department I also do Self-Help Group Leader teletraining; am a member of the NMSS Self-Help Group Task Force; the Relationship Matters Oversight Team, the MS Learn On-line Task Force, and most importantly (and proudly) represent people living with MS on their National Programs Advisory Council.
For all the knowledge, support, and friendship that the Society has given me, I will be paying them back for the rest of my life. I can never do enough for them.
One of the things that I truly love doing each year is being a presenter at their National Conference, something I've been lucky enough to do since 2003. Ironically my first introduction to Clay was at the Society's 2004 National Conference in Denver when he was named National MS Ambassador for his service to the MS movement. One of my dear friends Rachael Nuwash and I were even lucky enough to have our picture taken with Clay.
The next year in Atlanta, Clay was back with his band doing a private concert for the conference attendees. He and his band were fantastic and so generous to do that concert for us, even signing the picture that had been taken the year before which proudly hangs on my office wall. Well, I was totally a FAM, as Clay says. Since then a Clay Walker album is always playing on the iPod or in the car CD player. In fact, just a few months before that fateful conference in Texas Pat and I drove 7 hours roundtrip to see Clay and his band perform in Lynden, Washington (near the Canadian border). It was one of those great venues, a county fair with the stage outdoors on a warm August night. What could have been better?
Well, better happened in Dallas at the silent auction. Pat made an opening bid of $1,500, figuring Clay's guitar should get at least that much. Each time someone bid against him, Pat bid back. During dinner, he kept checking to make sure he was still ahead. As the last seconds of the auction ticked down he placed the final winning bid, $3,100, all going to the National MS Society!
Everyone from our Chapter cheered when they announced he got the guitar. I was beaming! To me it was just one more wonderful thing that Pat has done for me.
You see, Pat and I were married after I was diagnosed with MS. When Pat said the words "in sickness and in health" at our wedding, I cried, because he really meant it. He shows me this every day. Pat goes with me to my doctor's appointments, gives me daily shots of Copaxone, and is my physical and emotional support when I need someone to lean on, just like in the song.
When I tell people that getting MS has been a blessing in my life I'm sure that some will never understand. But it's true; MS has given me the opportunity to appreciate everything about life. I treasure Pat and my family who are always there for me; the friends I have made, many of them also living with MS; the chance to make my life a vibrant and fulfilling one, and to talk to people about MS, something I am so passionate about. Now when someone asks, "what do you do," I answer proudly, "I work to move us towards a world free of MS." I do that by being an MS Ambassador and attempting to pay back the National MS Society for always being there for me when I have needed them. I'll probably never be able to pay them back but until I do I'll have a wonderful time trying.
And most importantly, every time I look at Clay's guitar I'll always have a beautiful reminder of how much Pat is there for me, just in case I fall.
Anna Crum
I am an eighteen-year-old living with Multiple Sclerosis. In fact, this August will be two years since my initial diagnosis.
For years I struggled with unexplainable symptoms, visiting doctor after doctor, all of whom concluded the symptoms were mere products of an attention-seeking hypochondriac ... A beginning junior in high school, I endured a few months of irritable eye problems. After what seemed like a marathon of tests, the answer finally came and in August of 2006, I was diagnosed with Multiple Sclerosis. I was only 16 at the time.
Like many others before me, I had no idea of how to react. How do you swallow news like that? There were no words to describe the mixed emotions raging inside. So my first grand idea became to simply ignore it, pretend my condition didn't exist and all would be fine. It would go away on its own ... Need I say that that obviously didn't work in the least. Even as stubborn as I am, I couldn't simply wish the truth away.
All of my life I have been raised as a Christian and have been blessed with many talents. A jack-of-all-trades, I played piano, flute, volleyball, and soccer, did gymnastics, sang as a member in the chorus at Harrison School for Performing and Visual Arts, aspired to be a photographer and was a straight A student. Up until that turning point in my life, my biggest obstacle I thought was going to be choosing what road to take. However, somewhere along the road, I had stopped talking or even listening to God and inquiring about what His plan for my life was. I soon learned the huge lesson that God is not someone to ignore and sure enough, He found a way to grab my attention and permanently alter my perspectives.
Seventy-five days after my initial diagnosis, the lights went off in my eyes, dimming to the point where I was considered legally blind. Instead of worrying about my life calling or even obtaining a driver's license as most 16-year-olds do, I spent my time learning mobility with a cane and becoming fluent in the basics of Braille.
Placed on an unwanted pedestal in a spotlight of high school drama and judgment, I was shown who my true friends were and sadly the numbers had greatly decreased. I began to fall into the trap of wallowing in self-pity, believing that all I had aspired to be was lost along with my talents. If you can't see, how can you play the piano? How can you take pictures? Or paint? Or read music to sing? How do you complete your homework? These were only a few of the questions that rang in my head. Fortunately, God blessed me with the answers to some of the incessant queries, and it is those answers that I have gained a new perspective on my life with Multiple Sclerosis.
The first answer came spontaneously from a best friend. She showed up at my house (I had stopped going to school temporarily) with a box of colored pencils in hand. When asked the obvious question of how I could possibly draw, she simply stated that I didn't need my vision to scribble. "Besides, art isn't always color-in-the-lines-- just draw what you feel." So many times in life we get so caught up in staying inside the lines of the normal: of daily habits, daily routines, or even starting to believe that there is only one correct way to solve a problem or complete a puzzle. MS has taught me otherwise. I now see life as a blank sheet of paper of which you have the freedom to fill any way you like. It's your masterpiece.
Pondering over those questions and my situation, I was introduced to what seemed like a whole new side of life filled with amazing role models unlike those you see frequently on TV. It is then I was introduced to the story of Ginny Owens, a wonderful musician, pianist, singer and songwriter who is fully blind. Her lyrics teach so many amazing lessons that as a Christian I strive to learn. She took her own disability and through it created an outlet for a wonderful ministry that glorifies God.
I was also introduced to the life of Clay Walker. Also a singer-songwriter whose lyrics uplift those who listen and who despite his own battles with MS has used his position to reach out to those in the MS family advocating for awareness and funding research for a cure.
These are the people I yearned to fashion my life after. Maybe I could use my position, a small as it seemed, and become a role model for someone else. My model of thinking became, "If I could help at least one person from what I have been through, then it was well worth it." I learned through my battles with losing sight to appreciate those around me, to stop taking so much of what I had for granted, and to not only listen to my heart, but more importantly to listen to God.
Although I did learn to cope without sight, I was blessed with a full vision recovery after 9 months of difficulty. With my vision back, I still listened intently trying to find out His plan for my life and with help was able to apply this new thinking outside the box philosophy to my life. As a teenager with Multiple Sclerosis, I had not found many venues for support. Almost all the information I found was for adults living with MS or for the teenagers whose parents dealt with the disease. Scarcely anything existed for teenagers who deal with the disease directly.
So I started a project. Having dealt with a multitude of issues including vision problems, health problems, and judgments that stemmed from ignorance about the disease and the ages it affects, I wanted to do something that would incorporate awareness for both the visually impaired and teenagers with the disease. With the help from my vision teachers, my mother, still a teacher at my old elementary school, St. Paul Lutheran, and the staff at St. Paul, I began to get to work. I had my mother's fourth grade, which consisted of 18 students, write stories for younger children around kindergarten age. Edited to focus on words that omitted anything dealing with sight, the stories instead focused on texture and different concepts of location. While I brailed each of the stories, in the meantime I visited the kids, helping them with their illustrations. Each student used different materials to illustrate his or her story, creating a picture that a blind child could feel. While they were creating their stories, the fourth graders were also educated on the visually impaired as well as on the effects of diseases, such as Multiple Sclerosis, and learning that others with disabilities were no different than they were; they just had to go about things a little differently. The stories were donated to the Division of Blind Services to be checked out for the visually impaired children who are learning the basics of Braille. A newsletter was also sent out to the families of the kids throughout St. Paul Lutheran and a fundraiser was started which raised over $800 that I donated to Multiple Sclerosis Foundation to help them start a new teen chapter and forum specifically designed to help bring together the teenagers with MS, yet another project in which I will hopefully be staying actively involved, as the numbers of teens being diagnosed seems to be growing daily.
Although my project was limited in its reach – a local newspaper article and segment on the Tampa area's Bay News 9 – I embrace the ongoing drive and determination to help eliminate ignorance, raise awareness for other teenagers with Multiple Sclerosis, and help others cope. As a National MS Society scholarship winner, I also will be volunteering at its first teen retreat and am ecstatic to get to meet and work so closely with these teenagers like myself. I am determined to help make a difference in one way or another.
I hope and pray for more opportunities to reach out to more individuals, so I can share my faith that with God, anything is possible. Anything can be overcome.
"Character cannot be developed in ease and quiet. Only through experience of trial and suffering can the soul be strengthened, ambition inspired, and success achieve." Helen Keller
There's more than one way to color on a sheet of paper.
Hilton Fabian
Hilton Fabian was diagnosed in January of 2000 with MS and by the advice of his doctor took the "wait and see what happens" approach. That same year, he was terminated from his employer after six years of exemplary work just two weeks after notifying them of his diagnosis. Due to lack of balance, coordination and drop foot he fell in 2003 breaking the first of twelve bones. That same year Hilton started Copaxone, which all but stopped the MS progression, but the damage was already done.
Over time his symptoms worsened ultimately putting him in a wheelchair, after breaking his twelfth bone. Hilton had several more falls and a stroke all the while raising his two sons as a single father and giving them everything he could possibly give them.
Although life seemed to be throwing Hilton curve balls at every turn, he stood firm refusing to let it beat him. He accepted the fact he had MS and did what needed to be done to become healthier, both physically and mentally. However, Hilton took it a step further by becoming involved with one of the Houston/Bay Area MS Networks as an ambassador of sorts. He researches various websites for upcoming events and then email blasts the updates regularly to his list of 350+ people. In doing this, Hilton has single-handedly managed to help spread the word and awareness about MS and has helped so many people in the process. He is the one people can count on to ask the doctors questions at these events when no one else will (including the doctors themselves), or to lighten the mood in the room if things are getting a little too quiet or serious. He has often times spent countless hours on the phone talking with people on his list to lend an ear for encouragement and support.
In 2012 he began taking Ampyra which had dramatic results for Hilton and before long he was out of the chair and walking! This was not only encouraging for Hilton but also to the many people he associates with.
However, another curve ball was thrown in January 2013, while at a dinner event Hilton fell and broke his hip, his thirteenth bone, which required surgery and a 3 week hospital stay. Yet once again, he's not letting it get the best of him. He is home, following the doctor's advice but busy with his event updates. It's business as usual.
Hilton has the most magnetic personality I have ever come across and you just can't help but smile when you are around him. I truly feel he is a hero, because of what he has personally overcome in his life and for not being afraid to share his story with others so we all know we aren't in this fight alone.
Alexandra Levin
Many people afflicted with a chronic disease have plenty of obstacles to surmount in their lives without adding more. For Upper West Side resident Alexandra Levin, being diagnosed with multiple sclerosis (MS) at a young age did nothing to thwart her desire to tackle some of the biggest natural obstacles in the world: mountains.
Levin, 30, was diagnosed with MS, a condition that attacks the body's nervous system, in 2005. She's only had a few episodes and has been able to recover after each, continuing to ascend peaks all over the world on breaks from her high-powered banking job. She recently got back from a three-week summit of Mount Denali in Alaska, the highest peak in North America at 20,320 feet, a feat she accomplished while carrying and administering her medication and hauling a 125-pound backpack.
She became obsessed with mountain climbing after a solo trip to Africa six years ago, not long after her first MS episode, when she climbed Kilimanjaro at the suggestion of her travel agent. Despite working with a guide who spoke no English and getting altitude sickness, Levin remembers it as a transformative experience.
"Being on the side of the mountain and working so hard to get there, when the sun comes up, it took what little breath I had away," Levin said. "I remember thinking, If I had extra air right now, I'd cry."
When her plane zoomed past the mountain peak she had ascended on her flight home and she realized how high—19,300 feet—she had climbed, she was hooked. Since then, she has also summitted Elbrus in Russia (18,500 feet), Baker in Washington State via two different routes (10,800 feet), Cayambe in Ecuador (19,000 feet) and Aconcagua in Argentina (22,840 feet).
Levin was a competitive figure skater as a child and never imagined herself in a rugged, tough sport like mountain climbing. She grew up in Riverdale and went to the Horace Mann School before heading to Harvard to study philosophy and Russian. After graduation, she took an analyst position at Citigroup, trading distressed municipal bonds there.
"I worked with great people, I had great bosses, we had a ton of fun," said Levin, who later moved to a different department. "It was sort of similar to philosophy in that it was highly analytical. At the same time, it had this element of creativity because we were dealing with very broken-down projects and part of the analysis was, how does the thing improve and what's necessary to turn it around?" She was working at Citigroup at 23 when she had her first episode of what turned out to be MS.
"I basically woke up one morning and felt like I couldn't really walk," Levin said. "It was very sudden. I had had a work event the night before and I was out late and just assumed that I was tired."
After walking to work at a glacial pace, she moved slowly throughout the day and later noticed that the right side of her face had gone numb. The next day, she got checked out at the medical clinic at her office building, and a nurse suspected that she might have MS.
"That set off a whole chain reaction of MRIs and spinal taps and blood work and vision tests," said Levin. "It's sort of a process of elimination."
She was officially diagnosed with Clinically Isolated Syndrome, a precursor to MS, though she immediately assumed that she had MS and began taking medication for it. Her feelings were confirmed with a second episode in 2008.
That year, she also switched to a new position at Citigroup, in the community development investing division. She credits her company and co-workers with being incredibly supportive after her diagnosis. Now, between planning her mountain climbing excursions, she works closely with the MS Society to help with fundraising efforts.
"There are still so many questions and there is no cure—the only way to get answers is to fund medical research," Levin said. "The way that I saw that I could contribute and drive our collective push for a cure was by raising money."
She's also, of course, already planning her next climb.
Audrey Blank has been living with MS since 2007. She is active in the National MS Society and has a Bike MS, Walk MS, Muck Fest MS National Team. Collectively her teams have raised over $500,000 for MS.
Audrey, has a Master of Education degree and is a learning specialist. She is honored to be featured as a BAMS MS Hero. Audrey participates in MS events across the country. In 2013 Audrey and her team hosted a break point for the Clay Walker Band Against MS Ride in Waller County Texas.
McCall Teicher is living with MS and helping others. McCall was diagnosed in 1998. Not too long after her diagnosis, she met her husband as a result for her training for the MS150! A few years ago, she founded a non-profit called This MS Life. They provide 1-on-1 support for those living with or are affected in any way by Multiple Sclerosis. Learn more about all the work she is doing through her organization here: thismslife.org
In early 2008, Kim Albin established The Cure MS Foundation. Kim is also a National Multiple Sclerosis Society/Greater Illinois Chapter (NMSS/GIC) long time volunteer and Board of Trustees member.
Kim's passion for advocacy and finding a cure for MS has taken her to Washington D.C. where she has met with former Speaker of the House, Dennis Hastert to lobby for additional and more affordable healthcare coverage and benefits for those afflicted with MS and for stricter ADA regulation compliance. In addition, she played an integral part in Springfield, Illinois where her efforts helped launch the release of the "It's Double Time!" scratch-off instant lottery ticket—the first instant lottery ticket in U.S. Lottery history where 100 percent of net proceeds are used to help people in Illinois living with MS. Since its inception in July 2008, 2011 marks the 4th year the special MS ticket will be sold, with tickets from previous years raising more than $3.6 million in net proceeds for MS research grants awarded in Illinois.
Kim is definitely a true hero, not only for what she has accomplished but more for who she is as a person. Kim has been one of my best friends for about 18 years. We met when our daughters were around 2 years old, our daughter's are now both in college. It's been a very long time and we have seen each other through many good times and bad, fortunately for us, mostly good. For those that did not know Kim prior to being diagnosed with MS, she's very much the same person today as she was back then. When I met Kim she had moved from Phoenix to Chicago to be the District Manager for J. Crew, then Banana Republic and finally Victoria's Secret. I was immediately in awe of her strength, her leadership, her influence and inspiration on other people and how powerful she was, and on top of all of that, she was a great wife, a great mother and a great friend. I mean she really did it all and she made it look easy.
Then about 15 years ago Kim was diagnosed with MS. Her life was forever changed in ways that would seem unimaginable to the average person. This woman who did it all, who put everyone else first, whose attitude was the sky's the limit, now had limits placed upon her that could not be ignored. She would wake up with a whole to do list in her head but if her body wasn't up for it then it wasn't happening. Again to the average person this would be devastating, they would ask, why me or think it's not fair but not Kim, no way, she's always been a fighter. She is tough and never let this disease define who she was.
Even though the events listed above would not have been so successful without all of the hard work, effort, time and unending generosity of the sponsors, donors, vendors and volunteers, the truth is none these events would be possible if it weren't for the vision, drive and determination of one woman. Despite those limitations she gets up and fights everyday for the rights, quality of life and most importantly, a cure for MS, not just for herself but for all of those afflicted with MS. Although she is very much the same person I met 18 years ago, today Kim is even stronger, more influential, more inspiring and more empowering than ever before. Her ability to touch the lives of so many is truly a gift and she will certainly never be viewed as average by anyone who sees what she's accomplished, fortunate enough to know her or blessed enough to call her friend, as am I.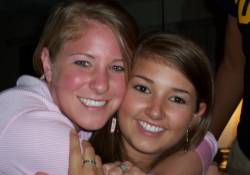 Summer of 2007, my 21 year-old daughter Kristen eagerly awaited starting her senior year of college. She was also very excited that her younger sister Alison was about to join her as a freshman at the University of Georgia. We had planned for the family to enjoy a few days together during Alison's orientation as our daughters began the year together at the same school my wife Shelley and I had attended, and where we met over 25 years earlier. Things didn't work out that week as planned.
The morning Alison and Shelley started orientation, Kristen and I were meeting with her neurologist. He told us of Kristen's diagnosis of Multiple Sclerosis. We were not familiar with the details of MS, and Kristen's only vision of MS was of the father of a college friend of hers who has MS and is a quadriplegic. The diagnosis of MS is stunning for anyone and particularly stunning for a 21 year-old to now be faced with the uncertainties of MS. I do not remember much about that day, but two details I do remember clearly. I remember sitting and listening to the doctor as I watched Kristen. She was amazing! Despite just receiving this news she sat there listening attentively – calm and composed – asking questions and discussing the disease, treatment options, and her prognosis.
I also remember the ride home from doctor's office. We rode home pretty much in silence. I held her hand and she stared out the passenger window into the clouds. As we were almost home I squeezed her hand and said "I love you". She turned and looked at me with those big brown eyes full of water and she tried to force a little smile.
Kristen has always enjoyed athletics despite not being the strongest athlete, and I now realize that was preparing her for a much bigger battle that she would face. Kristen swam competitively for many years. As her sister and friends were receiving ribbons and medals, Kristen usually finished towards the back of the pack. Many others would have gotten discouraged and quit, but not Kristen. The coaches stressed that each swimmer should work their hardest to learn and improve and the race was against the clock to improve your personal time. Kristen accepted this challenge and pushed herself to be the best swimmer she could be. She would check her time and get so excited if she had improved and if not she would just continue to work harder. She would also be the biggest cheerleader there for her sister and friends. I could not have been more proud of her for her strong will, determination, and attitude. She has used the same discipline and qualities in her fight against MS.
In the 3 years since her diagnosis Kristen is doing very well. But as MS patients and families know even doing well means enduring a lot. She battles fatigue, some cognitive problems, and spasms associated with MS. She adjusts to constantly changing medications, shots, and infusions. Despite all of this she keeps a smile on her face, a positive outlook, and an excitement for life that has always characterized her personality. Most people other than close friends are not aware of her condition or what she deals with every day. Kristen does not hide her MS, but she is determined to not let it define her life. In fact she does not wear a MS bracelet but rather wears a blue Katie's Courage bracelet in honor and memory of a close childhood friend that passed away from complications from viral encephalitis. Kristen helped in the efforts to build Katie's Pool - an adaptive aquatics swimming pool in Augusta at the Family Y that serves many people and groups including MS patients from the Medical College of Georgia. Kristen has also been the inspiration for a team the last three years for Walk MS - Athens. Team Kristen has had the largest number of walkers each year and has raised over $10,000 towards the fight against MS.
Kristen knows she will have to fight MS until a cure is found. She is very proactive in fighting this terrible disease and keeps herself educated on the disease, treatments, and medication. During this time though, she leads a normal and productive life. She is a middle school teacher and I believe her experiences with MS have given her a unique perspective to help her students as she teaches classes for those students needing special help in academics. She also hosts a weekly Bible study at her house where she is able to share her experiences and also learn from the experiences of others. Kristen refuses to let MS curb her wonderful enthusiasm for life and although she may not have the most physical strength, she is one of the strongest people I know and she has the heart of a champion.
Stefanie Remington
Imagine winning the pageant of your dreams. Being twenty two years old, in college, a chance to tell the world about your platform and then suddenly, without warning, you are unable to speak or walk. Unaware of what is attacking you, you become trapped in a body that requires constant care and may not even survive.

This is exactly what happened to Ms. American Renaissance 2008, Stefanie Remington. A firm supporter of the Special Olympics and the MS Society, Stefanie spent whatever free time she could coaching kids and raising awareness for the very disease that instantly changed her life.

Four months into her reign she was running errands for her cousin's bridal shower. She complained of a headache and went home to lie down. She was found by her Father unable to talk or walk. At the hospital she was diagnosed with a severe form of Multiple Sclerosis. Within three weeks Stefanie had 8 new lesions appear on her brain. It was so severe that she required 24 hour care.

For Stefanie's family, friends and fellow queens, witnessing this young lady's courage and determination has been a very humbling experience. As the treatments began to heal her and she became aware of what had happened, she found herself trapped, unable to communicate, and yet resolute as ever to beat the odds. She accepted her suffering and never looked back, encouraging us all to move forward. Her empathy toward others is remarkable and her strength unmatched. Her goal was to join her sister queens in Orlando in June to crown her successor and she made it. Stefanie was also crowned as a Ms. Royal American Renaissance Lifetime Queen in honor of the battle she has been facing with MS.

Stefanie has volunteered with the MS Society for 10 years and coached both shot put and basketball for Special Olympics. She herself was a 3 sport athlete in high school and was just 2 semesters away from graduating from the University of Washington with her Bachelor's degree when she was struck down by this unpredictable disease.

Stefanie continues to improve every day and is determined to be able to go back to school and finish her degree. She also wants to raise awareness of MS and this year the American Renaissance National Pageant will donate all of the proceeds of the Ms. Spirit American Renaissance competition to BAMS in hopes of helping to find a cure and help others battling this disease.

Stefanie resides in Maple Valley, Washington with her father, Michael. She also has her mother, Janet, a brother, Ed and sister, Michelle, all in Washington state. Stefanie also has 3 nieces that she adores, Peyton, Cheyenne and Lillian.
While listening to the radio years ago, I remember hearing a country western singer make the quote, "Life is a journey, not a destination." I knew this singer, loved his music, and was interested in his words as he had been diagnosed with a disease I wasn't too familiar with at that time. The singer was Clay Walker and the disease was MS. Little did I know that soon I would be on a similar journey as Clay. In fact, while none of our stories are exactly the same, aren't all of us with this disease on a similar path? I would never have chosen this journey in my life. But, I can honestly say after six years of being on it, there are so many positive things it has brought me.
I am so grateful for the husband and children I have. They are the #1 supporters in my life. Last November, my husband and I were asked to represent the state of Idaho at the National MS Convention in Chicago. With him by my side, I looked around the room filled with nearly 1,000 people, and I thought to myself, "We have this disease that so many are working on to find a cure!" Last spring, my son wrote an essay in a contest and won 2nd place. He wrote, "... years ago my mom got a disease called MS. That has been hard on us because she can't get stressed. Nobody can replace my mom because she is so loving and kind ... " My oldest daughter was President for her school's National Junior Honor Society. She organized a fundraiser to sell "Go Green" bags and raised $800 for the National MS Walk. My youngest daughter often watches my shot in the morning to let me know when it is finished. Blessed I am.
So much purpose comes from my Advocate duties. I thoroughly enjoy talking to those that need a shoulder to lean on in their journey. I know if I didn't have this disease, I would never have had the opportunity to visit with these people. My husband and I attended the Advocate Forum in Denver in July. What a nice surprise to have Clay Walker show up! Listening to his stories about MS, I realized, famous or not, we are all on that similar path. We can certainly all relate to each other on a level that is sometimes difficult for others to understand. He led the entire audience in an acoustic version of "Lean On Me." Isn't that what we all do? And, how lucky we are if we have those in our lives to lean on.
I often tell those I talk to about my "recipe" for doing well. Six years with MS and I can say that it is a nuisance at times, but I am so grateful it is manageable. I start out my day administering my therapy. My motto is, "A shot a day helps keep the MS away!" I exercise doing Pilates, Yoga, and walking up to five times a week. I try and keep low stress. And, I try to get enough sleep. Eating well is important. I have a strong faith which has grown in challenging times. A positive attitude makes a huge difference. If my attitude slips, my symptoms increase. I think that these are all healthy life choices anyhow.
I know many would find it strange to say, "I have MS and my life is good." But, mine is. I have so many positives in my life that I try to focus on. The bad will wear you down if you let it. Life IS a journey, not a destination. I would say that while challenging at times, my life with MS has been and continues to be an amazing journey.
When I was asked if I would be interested in becoming a BAMS Hero, my initial reaction was one of self pride. I was honored, of course, to be asked, but I have to admit that I liked the idea of being recognized. That is until I just happened to rent a movie called Emmanuel's Gift. It is the documentary of a severely disabled man who rode his bike across the country of Ghana ... with one leg. He wanted to bring recognition to the plight of the disabled in his homeland. That is a real hero! I went to bed ashamed to even think that I am even the least bit worthy of being associated with the word "hero." But what is a hero? A hero is one who inspires others.
With that being said, I realize that I have the opportunity here to offer hope to those newly diagnosed with Multiple Sclerosis. I also realize that those who are healthy sometimes are inspired by the stories of someone living with a chronic and progressive disease. Each of us has the opportunity to give back to society. What follows are some of the things I have learned and my experiences of having lived with this illness for over a decade.
In June of 1994, life was great. Kendrick had just been born, I had a decent job working for a construction company, I was married to a great wife of four years, and I was training to run my second marathon. Jackie was in Birmingham with Kendrick visiting her parents. I had just gone for a 5 mile run and was starting to notice some tingling in my right leg. It felt kind of like when you run too far and your feet go numb from pounding the pavement. I wasn't really concerned, but Jackie, the registered nurse, was. I remember sitting on the couch talking to her about it and she sounded scared.
A few weeks later we went to see our family doctor. He then referred us on to the neurologist. He did several tests, never once mentioning what he thought it might be. I had an MRI, a spinal tap, and a few other tests I can't remember; I started feeling like lab rat in a science class. His diagnosis at the time ... nothing.
Jump to 1998. I was running again, not training for anything, just fighting the battle of the bulge. I was in Birmingham and had just run a few miles on Sunday morning before church. (I had also run a few miles the day before.) On the way home, I started to feel numbness and tingling on the left side of my abs. It spread up my trunk and into my back. After a few days of this we called the neurologist and he had me come in that night for an MRI. A friend of mine was there waiting for me to emerge from the little tube. Jackie was home with the kids and Brian had just flown in from Chicago, but he just wanted to offer moral support I suppose. Good friends are a true treasure.
When I went back to get the results, the doctor said that I had transverse militis. I read about this later on the Internet and it seemed to be just a precursor for MS.
Wanting a second opinion (due to my belief that I was invincible), Dad got me in to see an MS expert at Vanderbilt University Medical Center. Mom, Dad and Jackie all went with me. He did a verbal and physical exam for about 45 minutes, looked at my MRI and other test results, and came back in the room and said the following: "After looking you over and talking with you, I am going to say that you have MS. You have had two different episodes in two separate areas of your body. This alone is textbook enough to give you a diagnosis. However, I would like to do a spinal tap to look for some bands that are present in the spinal fluid of people that have MS."
Well, that was it. I sat there in shock; Mom and Jackie were crying. I still had some doubts until the spinal tap showed the results that solidified the diagnosis in my mind. I now felt that life was more fragile than it was just ten minutes before. I felt "not perfect."
The first few months were hard. I never got negative, I never blamed God. Every day I would think about it, 10-15-20 times. Each time wondering if I would be in a wheelchair or walking with a cane. I got nervous for the future of my family. I wondered if people looked at me differently. Would I be able to continue working? It was hard to come to grips with the fact that I was now "sick for life" and different.
My doctor gave me the option of either Copaxone or Betaseron. I reviewed the data and came to the simple conclusion that one caused flu-like symptoms and one did not. Such a scientific conclusion! A few weeks after the diagnosis, I started taking daily injections of Copaxone.
After being diagnosed with MS, I went through a multitude of emotions, both rational and irrational. Buying a new set of electronic drums would now be classified as an irrational decision, although at the time it was a very rational thing to do!
I have been playing the drums as an avid amateur since 4th grade. At age 10, I thought if I banged on my desk just enough during class, that my teacher would call a conference, I would explain to my parents and my teacher that if I only had a drum set I wouldn't need to bang on my desk. Well, I did get in trouble, a conference was called, I pleaded my case and I did get my first drum set. However, Dad did a little drumming of his own on my backside as well, but 30 years later, I would say it was worth the pain!
When I was diagnosed with MS, I didn't know how long I would be able to keep playing, so I rationalized that I needed to trade in the 6 piece Pearl trap set for a new Roland electronic set. Playing the drums is a great way to reduce stress and it gives me a sense of being "normal." Drumming involves all four extremities, so at some point I probably will have to stop drumming, but I am enjoying it while I can!
In 2001, I was sporting a pretty good set of love handles, courtesy of the #2 combo meal at McDonalds. I weighed the most I had ever weighed and decided I had had enough! So I lost 30 pounds and started my love affair with cycling. My first bike was a 100 lb. mountain bike. Thanks to the sympathy of my father, he gave me a new road bike just 6 days before my first MS150 in Nashville. Since that time, I have ridden in 12 MS150s, 9 triathlons, and four 100 mile challenge rides. I log about 3,000 miles annually. Having MS drives me harder. I am so appreciative for every time I can turn the cranks one more year. I made up a little phrase for myself, Carpe Pathos. It means Seize the Disease! Physical fitness is one way that I deal with having MS. I do feel that, aside from my proven drug therapy, staying physically fit has given me better overall health. While I realize that many living with multiple sclerosis experience high levels of fatigue, I would still encourage people with MS to start or continue some form of physical fitness. It may be just walking to the mailbox and back, but that little walk is important. As my father says, "Never give up!"
Another blessing to have come out of this disease is my relationship with the National Multiple Sclerosis Society. There are some really dedicated people that work so hard to help raise money to help those with MS and to help end the devastating effects of multiple sclerosis. My first year of having MS I was able to raise over $13,000. Then in the fall, people generously gave another $8,000 to sponsor me in my first MS150. People asked me how I raised so much; I smile and say "It's easy, just get MS!"
My biggest honor was being presented with the father of the year award in 2000. Good thing the kids were too young to tell the NMSS different!
My favorite MS150 was the BP Houston to Austin ride. I started training for this ride in December; I went from 192 pounds just after Christmas to just under 175 pounds for the ride. I trained inside and outside. I trained in 20 degree weather and 75 degree weather. (The ride turned out to be 92 degrees for a high on the first leg!) I logged 1,086 miles in 3 months. Having a goal makes training so much easier. The only nagging effect of my MS was that I felt a constant numbness in my left side that seems to get a little more noticeable as my body heated up.
During the training phase, I also experienced a relapse. For me, my relapses seem to be about every 3-4 years. They are minor compared to most people with MS. This time, my right foot and right side of my face went numb and were tingling. I went to see Dr. Sriram, and he said that it was most likely occurring in my brain stem and that, unless I had weakness (which I did not), he would rather not treat it with steroids. So, I waited it out for about 3 weeks and the numbness and tingling went away. I stopped riding for about a week. Having endorphins withdrawals, I decided that if there was no weakness, than I would not let it come between me and my goal: riding the BP Houston to Austin MS150.
Traveling through the little towns in Texas was really fun. There was one guy, dressed in overalls, standing beside his wife and his John Deere that was serenading us with his fiddle and sporting some very white dentures! Each little town we rode through gave us a warm Texas welcome. Some, according to the signs, only have populations of about 300 or less people. Did I mention that it was 92 degrees that day! As we were riding, one lady I came upon was complaining about the heat. Another said it was 92 degrees. "Thanks, but I really didn't need to know that!" I joked with her. Whenever I get overheated, I put ice in my skull cap; it seems to help cool my body temp and my brain and limbs seem to respond well.
So at 11:05 p.m. that night, I laid my weary head to rest after a shuttle bus ride, a 180-mile bicycle ride, a 3 ½ hour bus ride back to Houston, a 1 ½ hour rental car ride, a 2 hour plane ride and a 30 minute commute back to my driveway, my adventure was over. That is a great memory I will cherish for a long time to come.
One reason I have been able to weather this storm is my life is due to my strong family. The word "family" has so many meanings. My wife is my partner and caregiver. Jackie has given me hundreds of shots in areas I cannot reach. She also gives me shots of encouragement to help me keep fighting this disease. Mostly, she puts up with my obsession with cycling! Kendrick, Clark and Anna know I have MS; I hope they know MS doesn't have me. I hope someday this disease will be cured. My son once asked me, "Hey dad, remember when you had MS?" As long as I live, I will never forget that innocent little comment.
My extended family consisting of my parents and my 4 brothers having been by my side every year as we ride the MS150 here in Nashville. They are another pillar of strength in my life. I am also blessed to have such wonderful in-laws that encourage me as well. They have been so good to me. And last, but not least, my church family has provided emotional and spiritual support from diagnosis to a decade of life with MS. As I said, family has so many meanings!
Just today I was telling someone that I often consider my disease a blessing in my life. That statement usually gets some odds looks. What I mean is that MS has given me the opportunity to try and make the most of every day. Each year I think, "What more can I do to challenge myself physically." I look for more ways to serve others. Each of us have a path in life, it's up to us to choose how we plan to travel it.
I was a little surprised to be asked to be highlighted as a "hero." I guess fighting through MS and overcoming its crippling effects, pain, and occasional depression to rise to a Vice President level at American Airlines qualifies in some people's minds. I am also very proud of holding together a wonderful family throughout my battle.
I'd like to stay on the hero subject a little longer because I know many of us with MS have our own personal heroes that deserve to be recognized. My most significant heroes are my family and my friends. They've stuck with me and supported me from the beginning. I must start by pointing to my wife Dianne who has hung with me and stood beside me all while being beautiful in so many ways - she attracts a horde of friends and admirers and could easily have chosen a different path. My kids (Will Jr., David and Courtney) are no less heroes as they are all on their way to their own terrific futures despite losing me from so many of the physically active roles that can come in handy as a father.
I must also mention the leaders of my company as real heroes. They stuck with me despite the many myths of how MS affects all of those afflicted. They've seen through my physical limitations to spot my talents, they've never stopped leaning on me for even more performance and more output, and they have continued to recognize and reward my performances throughout.
I am hoping that this note can be a little contribution to help a much broader group of folks who are battling this disease. I believe I can offer hope and I also believe I can provide some real information about how to improve your life with MS. I am really amazed by the lack of knowledge that exists in both patients and doctors about the help that is available. I'm sure this is largely due to the randomness of the disease and the need to treat each patient differently. So this letter is perhaps just one significant effort I can make to improve the plight of those with MS.
I'll start with my own story so that you may better appreciate how I've developed my understanding and opinion of MS. I realize there are millions of opinions about MS, many from people who are convinced they have found the cure. Having tried many of these ideas, I don't hope to find such a cure by poring through every claim on the Internet. However, I do value learning about the successes people have with overcoming the challenges of the disease. Hopefully, you'll gain that same value from my story.
I experienced my first symptoms of MS a little more than 10 years ago, and it took about 3 months to confirm I had MS. Prior to these episodes, I was one of the healthiest people I knew, and it was then that I had my first help from above. An insurance salesman convinced me to buy more disability insurance despite my belief that it would all be wasted money. Hopefully, it WILL all be wasted money and I will never have to leave the company and the job I love until I am ready for a normal retirement.
My initial symptoms were rather minor in that they didn't limit my abilities, but they just created irritating burning sensations. Those symptoms passed and I entered my denial period. During that period, my wife and I decided to have a third child. Since it took us a while to be successful having our daughter, I did in fact suffer another episode of the disease before her conception. The new episodes unfortunately were the beginning of a more serious disability affecting my legs. I went through spells where my legs suddenly wouldn't work well and I was worried about falling (and did break a shoulder on such a fall). Throughout my wife's pregnancy, I worried about being able to support yet another child. Now that my daughter is almost 9, and is such a gift to me, I know that I had even more help from above when deciding to continue trying for a third child.
Since my first few years of suffering only a minimal impact from the relapsing/remitting form of the disease, my physical condition has significantly worsened. Although multiple MRI's appeared to show little in the way of new lesions, I was clearly worsening. I lost my first "life" sport when I decided I shouldn't snow ski anymore - that was about 8 years ago. Then about 5 years ago, I gave up golf. Losing golf was very difficult for me, but I've been amazed at how many other things you can do with the newly available time. I now have much more time to spend with my family, to read books and to give the company even more as has been required from all officers and frankly all employees at American in recent years.
Important transitions occurred for me when I was passing through the "walk-with-a-cane" stage and entering the "electric scooter" stage. With each stage of my progression, I did experience depression, but each new level showed me I had no problem excelling at the things that were most important to me – and that would bring on a new hope and actually lessen some of the fear I had been living with.
This last stage was important to cover because it has played a surprisingly big part in the acceleration of my disability. I had little understanding or appreciation of the human body and of the intricate symphony of movement among muscles required to perform many of our daily activities. I now appreciate how losing the ability of one muscle involved in an activity drives several muscles to be used less and to become more disabled through atrophy. Also a factor for me, I gained about seventy pounds since the time I started using a scooter. The lack of regular walking and normal daily activity greatly impacted my ability to control my weight. More weight added to the difficulty to perform in the areas where I should still have been active. So, I was now spiraling downward and I was blaming it all on MS.
What has happened to me in the last couple of years may provide some readers of this with some hope that comes from realizing much of the affect MS has on you is in your own hands. It was not long ago when I started on my path of maximizing my own impact on lessening my disability. My first goal was to lose weight because it was clear to me that moving less weight around would be easier. However, I stalled about half-way to my goal and realized I would need to add some exercise. This was tough for me because the simplest exercises like riding exercise bikes, walking-in-water, swimming and using my stomach muscles were all virtually impossible for me. So, I started very slowly and couldn't even break a sweat at first. I've now progressed far beyond my wildest dreams and my progress has accelerated in the last 6 months. I've now lost 70 pounds, and I intend to make exercise a regular part of my life no matter how little I can do. Finally, my exercise obsession (I have been accused of being obsessive) led me to search out the help of a physical therapist – this was a help I had ignored previously because I couldn't see how to commit the extra time usually required to benefit from a therapist. My latest effort in this direction allowed me to discover a terrific therapist who was happy to build my own knowledge about how to make my existing workouts build the most important muscle groups.
Now for the next big surprise that hit me – I had no idea that MS could bring on such severe and chronic pain. I'm sure I didn't understand all of the reasons for such pain, but I must say that I now strongly believe that the rebuilding of my stomach, back and leg muscles through my workouts has lessened the strain on my back and is a significant part of my now greatly improved condition when it comes to pain.
I don't know how far this exercise regimen will bring me, but I'm not willing to limit where I can go. I even hope I may find myself back on the golf course at some point.
Now let's talk about the medicines and the help from the medical community. I've had six different neurologists along the way. Working for an airline, I started by searching out who I believed was the best available doctor in the country. So, my initial years brought me to Chicago a couple times a year. As I progressed, it became more important for me to have a local doctor. So, the rest of my experience with doctors has been quite varied and sometimes disappointing. I was discouraged by the amount of "guessing" that I observed and the seemingly frequent inability to answer my questions – as you might expect, my profession can make me a difficult patient seeking many answers and not easy to satisfy.
My latest breakthrough was only about 6 months ago when my doctor moved, and I had the opportunity to hook up with a new doctor from UT Southwestern, who is considered by many as the best MS doctor in Dallas. Many of you in Dallas already know who this is and will already know that I was very lucky to find a spot on his patient list.
Now I am no doctor, but I'm willing to give you an amateur's opinion of how many may be helped if their doctors consider some of the treatments that have helped me. Since I am not a doctor, I can't urge you enough to make sure you consult with your own doctor before you follow any of my advice.
I had previously thought that MS treatment fell into two categories: 1) Stop or limit new episodes in order to limit or prevent new disabilities and 2) help you live a better life with the symptoms caused by your existing MS. I now believe there is a third opportunity which is quite exciting to me – that opportunity is to increase the brain's ability to successfully send messages to your muscles despite the lesions and the corrupted nerve paths.
I won't talk too much about the first area of stopping/limiting new episodes. This is perhaps the most widely known area and it holds much promise. The re-introduction of Tysabri is a particularly encouraging development and gives me hope that we may well dramatically limit this disease in the future.
The second target area for medication, or living with your symptoms, is perhaps the least understood piece of battling MS. Part of that is driven by the mere fact that MS affects each person differently, and there is not a universal solution for all. I will say that my new doctor is brilliant and has introduced me to medical help I was not aware of. Three of the medicines that have been very effective for me are Provigil (aimed at extending your daily wakefulness), Clonazapam (aimed at taming the spasms that were plaguing my legs late in the day) and Dexamethazone (a new medicine for me that is addressing my pain with much less steroid since it appears to combat inflammation particularly well). Many folks with MS don't appear to be aware that these are medicines that they may wish to discuss with their doctors.
Now I'll discuss what I believe is a largely unknown area of improving the actual ability for your brain to send signals to your muscles to move. My new prescription for this is called 4-Aminopyridine (better known as 4AP). I was introduced to this medicine during my effort to improve the impact of my workout regimen. I was very quickly able to measure the difference in my workout intensity and the work accomplished in my workouts as my workout machines provide those measurements – it was a dramatic improvement for me.
For all of these medicines, please only use my information to spur a constructive conversation with your doctor.
Separate from medicines, I now have a device that will locally fire muscles with electric current to lift my toes when needed to help me complete a normal stride. This device essentially bypasses the problems that I have in sending a message from my brain. It's a tremendous device for me as I hadn't realized how much of my difficulty in walking was due to my inability to lift my toes and the resulting need to drag my toes (and my whole leg) across the ground to complete a step. The idea of locally firing muscles sure looks promising for folks like me that already have disabilities which likely cannot be fully eliminated or overcome. If you have the same problem, I suggest you consult your doctor or your physical therapist about such a device.
I'll end by telling you I'm more excited and hopeful now than I have been for years. Whether or not these medicines and therapies work for you, I definitely urge you to take a more active role in working with your doctor to jointly establish a treatment plan that will work best for you. Many neurologists do not focus solely on MS and can actually improve the regimen that works best for you if you take a more active role with him/her.
Well, I've made my best effort to help others with MS. Because MS is so random, I don't know these medicines or therapies are right for you, but I do believe that a more knowledgeable group of patients will be in a much better position to improve their own ultimate situation. I wish you all well and hope I do help you in some way.
Jade Harmer

This is the story of my daughter, who is my hero.
My daughter, Jade Catherine Harmer, is 12 years old. One weekend in October of 2006, we were going to an Army PT test as a family, to test ourselves at jumping jacks, sit ups, push-ups and a two mile run. Jade beat us all home, which made her very happy, of course.
The next day, she wasn't feeling well, but we went shopping, had lunch, then headed home for dinner. While we were making homemade pizzas, I noticed she kept biting her lip. I told her to stop, but she kept saying, "I'm not doing anything Mom."
On Sunday, Jade didn't want to get out of bed saying she still didn't feel well. I was getting ready for church, and luckily, my husband got home from work and said he would take care of her and for me to go on to church. While I was gone, Jade fell out of her bed and fell to the ground. Her daddy came running in, asking what was wrong. Jade explained that she just fell out of her bed and had fallen when she was heading to the bathroom. At that point, my husband knew something was wrong and called me at church saying I needed to come home right away.
I immediately took Jade to the Mary Washington Hospital near our house and asked my husband to stay home, promising to call if something was wrong. As soon as the doctors saw Jade, they requested her to be transferred to another hospital in Richmond, Virginia, because they thought Jade had suffered from a stroke. I called my husband to meet us at the hospital.
By the time she arrived in the helicopter at the new hospital, the whole left side of her body was paralyzed. While we were there, they performed a CAT scan, MRI, spinal tap and a lot of blood work. At the end of it all, Jade was very tired and sick, and the doctors weren't sure what had caused her episode.
Jade remained in the intensive care unit for weeks, even celebrating her tenth birthday there. We couldn't believe it. How could our seemingly healthy daughter still be here?
Doctors again performed an MRI, and concluded that Jade had something called acute disseminated encephalomyelitis, or ADEM, which is a neurological disorder characterized by inflammation of the brain and spinal cord. They treated her with steroids, and placed her in Kluge Children's Rehab Center in Charlottesville, Virginia, for one month to learn to walk again and to use the left side of her body. Even with all the physical therapy, she came home in a wheelchair. Doctors hoped they had treated the ADEM, and didn't think it would come back.
Six months later on April 26, 2007, Jade was getting ready for school when her father announced that something was telling him to keep her home. Instead of going to school, he took Jade to work with him at the Pentagon. He and Jade took friends from out of town on a tour, and then out to lunch at Subway – Jade's favorite. When they got there, Jade couldn't even talk to order and my husband knew something was wrong and was afraid her ADEM was coming back.
This time she couldn't talk or eat, and her right side was paralyzed. We were again taken by helicopter to Fairfax Hospital in Fairfax, Virginia, where they performed two different kinds of MRIs and found a lesion on the left side of the brain. When they performed a spinal tap, the doctors said that five of the oligoclonal bands didn't match up in her blood. We didn't know what that meant. They explained that this usually is an indicator of multiple sclerosis, but that Jade was very young to have MS.
She was placed back at Kluge Children's Rehabilitation Center for three weeks to learn to eat and drink and write all over again. Two weeks after she came home on May 25, the doctor called and said their prediction was correct, our daughter had MS. We were told she needed to start treatment right away. I can honestly say that I'll never forget that day.
We started the treatment on July 14. At first, Jade was given a full adult dose, but she wasn't responding well, so we took her down to a 3/4 dose. At first I couldn't give her the shots. My best friend Heather had to. Then one week, I had no choice. No one was around but me and Jade. She told me it will be okay, but I couldn't stop sobbing while I was giving it to her. When it was over, she patted me on the back and said, "Mommy you did a great job, I didn't even feel it." This is what I mean when I say my daughter is my hero.
Later that year, Jade wanted to become active in the MS community, so she participated in her first MS walk. Jade also spoke at Capitol Hill in May 2007 with Congressman Rob Wittman about her health issues. While we were there, he signed the Congressional MS Caucus bill that reintroduced legislation to create a national MS registry to pool information about people living with MS. The bill's registry would help with planning for services and health care needs, detect/monitor health practices, promote advocacy and support research for MS.
Then, in November of 2007, she spoke at the Dinner of Champions for the local MS Society. Later on that same month, we went to Baird MS Center at the Jacobs Neurological Institute in Buffalo, New York, which is one of the six centers for children with MS. We met with Dr. Ann Yeh and her staff there. Dr. Yeh said to keep an open mind because we don't know where this will take us, but that we had a strong daughter who is a fighter.
All I can say is that MS will not keep our daughter down. She is a warrior. She knows that God only gives us what we can handle, and God has given her MS for a reason. She loves to listen to music, and got to meet one of her favorite singers, Carrie Underwood, while in Nashville, Tennessee. Not too long ago, Jade received a package from Band Against MS and Clay Walker. In that package was a copy of Clay's CD Fall. She always listens to it when she is having a hard day because the music really helps her.
My husband John and I are very proud of our daughter and her outlook on her disease, which is why she is our hero.
Karen Fuecker
Karen Fuecker is a MS Nurse with Shared Solutions from Central Minnesota. In 2009 the NMSS chose 2 new MN locations for MS outreach programs and Opportunity Matters, Inc. Sartell, MN was chosen to facilitate the program in our area. I met Karen at one of our early meetings. She was a featured speaker. In my experience, and others seeking support services, there weren't any local medical professionals specializing in MS. We all got referred to the twin cities which can be a challenge in so many ways! Karen listened to our concerns that day while trying to assure us that there were local professionals available. We restated our real life experiences with the local medical community.

Since then, Karen has in my opinion, with the support of SS, increased the awareness of our local MS community needs within the medical community. She has cultivated relationships with local medical providers so we can get the quality of care we need locally. Karen also devotes significant time & resources to support our MS Program at Opportunity Matters with an educational monthly program that encourages wellness!

When I was first diagnosed, I felt very alone and isolated here in central Minnesota. The nearest injection nurse was 75 miles away, the local neurologists didn't treat MS and instead referred patients out of the area, the monthly NMSS support group was not well attended, I couldn't find a local eye doctor, therapist, P.T., or G.P., chiropractor, that had any experience with MS. It was frustrating when I would contact the NMSS for local referrals and discovered there weren't any that had experience with people with MS In my area. So that meant my husband would have to take a day off to drive me to the cities if I chose to connect with services. I can't tell you how often I just put of getting care those first few years because it was just not accessible. Then Karen came into our lives, she rallied the medical community, she presents a wellness topic once a month at OMI MS Program, she supplies treats for us, she continues to do in home injection training, she trains injection nurses from all over the country for SS, she practices the wellness strategies in her own life participating in boot camps, an annual Mud Run, she supports our local women's flat track roller derby team who are donating a portion of their season opener ticket sales to our local MS program. This isn't a complete list of all she does! However the difference in how I know I feel with her supportive presence in our community is a huge change from when I was first diagnosed. I didn't have anyone to turn to & now I do as do so many others here. Karen is humble and recently received recognition from TEVA for her work.

Karen is our star in Central Minnesota and I know her star shines far beyond!
Phillip Crews
Phillip Crews, a resident of Nashville, TN, celebrated his 50th birthday on August 11th. For the past 9 years, since his diagnosis with multiple sclerosis (MS), Phillip has experienced progressive deterioration of his health. What started as balance problems and the inability to go up and down steps without a hand rail advanced to needing a walker or a cane to conduct his daily activities.
In June, Phillip joined us at the Chords of Hope Benefit at 3rd and Lindsley, in the heart of Nashville. He enjoyed the music of Clay Walker, Hal Ketchum, Jerrod Niemann and Sarah Marince. As a Nashville local, Phillip knows a good show when he sees one, and he's no stranger to the music scene.
Much of his life work consisted of stagehand gigs with famous bands, both inside and outside Nashville. Phillip recounted exciting moments working with the Rolling Stones, Steven Tyler, Bon Jovi, and many others who performed at Starwood or Dancing in the District in Nashville. The Atlanta Olympics also made it possible for Phillip to be a stagehand for Dave Matthews.
When his loss of balance no longer allowed him to continue his job as a stagehand, Phillip turned his eye to being a limousine driver and bought his own limo. His business was so successful that he was able to upgrade to a 10-passenger limo and life was great. Eventually, however, his peripheral vision was affected by MS, forcing him to quit driving and discontinue his business.
Phillip's favorite quote is "Don't dwell on what you cannot do, but what you can do." Though Phillip has limited mobility and uses a walker with a seat or a cane, he still gets around and makes every day count.
Stephen Ray
Stephen Ray's first day of work as a watchkeeper for Motlow College was in the fall of 2007. It happened to be the day of the 'MS Ride to Jack and Back' event. Ray said, "Before that day I had never heard of the bicycling event and I really did not know what 'MS' was." He added, "Actually I was a little nervous about so many visitors on campus while I was supposed to be learning my new job." Two years later he would realize the irony of his first day and he would learn firsthand about MS (multiple sclerosis).
The next fall he and his fiancee, Rose, were planning their wedding. Stephen, who normally weighed in the 180 pound range, had been an athlete all of his life. Growing up in Manchester, he played football and baseball and had always managed to stay in shape. He began noticing his muscle tone was fading and he was losing weight. Feeling very tired, he attributed his physical changes to stress. He and Rose continued with their wedding plans. By the time they married in January of 2009, Stephen's weight had fallen to 119 pounds. He knew something was wrong.
After the wedding he was determined to figure out what was happening to his body and started going to different doctors. In July of that year a doctor in Murfreesboro gave Stephen the shocking diagnosis of multiple sclerosis. He was told the progression of the disease is different for all patients. Stephen soon found himself walking with the aid of a cane and was told he was wheelchair bound.
After numerous doctor visits, a debilitating prognosis and an array of medications, Stephen decided he could not take this diagnosis sitting down. He began to fight back. He made extreme adjustments to his diet and exercise and began a training regimen that involved bicycling; a huge undertaking for someone that had to walk with a cane. He strapped his cane to the bike and in the beginning didn't have the energy and muscle tone to make it up and down his driveway.
Every day he tried to go a little further. He built up to half the distance of a football field, then the whole field. Eventually he was measuring his progress in miles. Stephen's hard work and determination were beginning to pay off and his body was obviously getting stronger. He began speaking at MS Society functions and started entering cycling events.
Today, even though his doctor says he is in remission from the disease, he lives with the pain. Because of damage to his nervous system, he measures at least a four (on a scale of ten) daily on the pain scale. Stephen's training involves stretching, yoga and cycling and he is working with three different coaches.
Stephen participates in a cycling event about once a month. He explained, "There are other cyclists, diagnosed with MS, who ride in specific heats with special bikes. The MS Society says I am only the fifth person to ride on bike, the full length of a race."
He said with a smile, "I recently participated in the '2011 MS Ride to Jack and Back' and for me, it was like coming full circle. It was here on the Motlow campus that I first heard of the event and with everything that has happened since then, I was thrilled to finish third out of the 1,000 riders."
Stephen summed up his determination to fight MS, "No one knows what the future has in store for us. I train five hours a day, try to keep a smile on my face and as long as I can ride, I'm going to ride."
 
NMSS Mid South Chapter Presents.....
 
Stephen Ray: I always seem to leave people wondering how, how that when you are given no hope but you turn a tragedy to triumph, how that when your told to build a wheelchair ramp, you dont listen. In 2009 at the age of 22 I was diagnosed with MS, walking with a cane and at 118 lbs I started to fight back. I jumped on an old bike, strapped my cane to the side and took off, I havnt stopped since, I ride every single day with the mentality that tomorrow I may not be as lucky. As of November 1st, 2011 I have rode 4200 miles...in 2011 alone, I no longer walk with a cane and I weigh a healthy 140 lbs. My name is Stephen Ray, husband, cyclist, and I am the face of MS.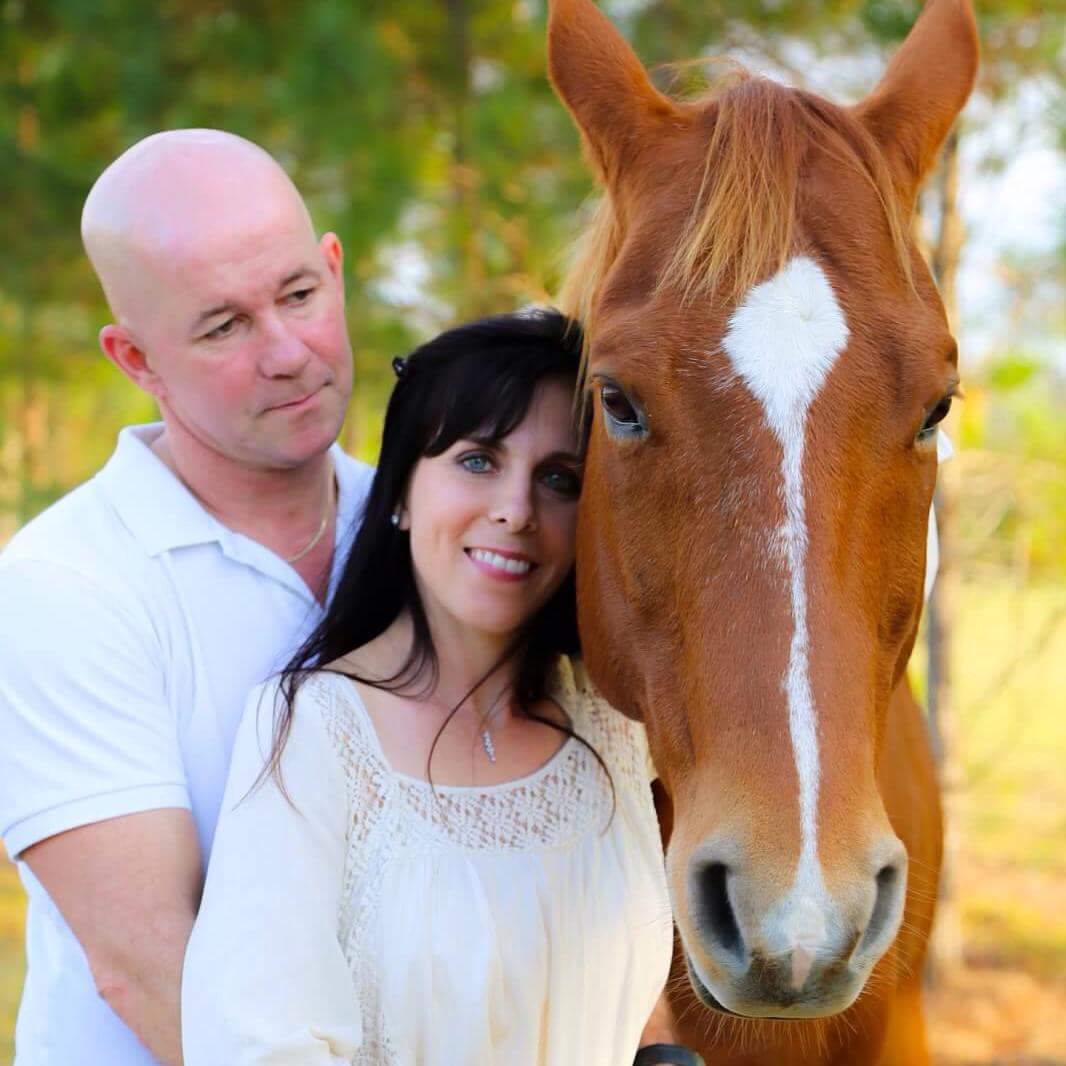 Missy woke up blind one morning, but went out to feed her horses before calling an ambulance to take her to the hospital an hour away. She was diagnosed with MS at 30 years old. She regained partial sight and continued to ride her horses in barrel racing competitions for 10 more years. She began training 2 of her labs as service animals and visited hospitals, juvenile detention facilities and nursing homes. She now works at her husband's auto repair shop a few days a week and volunteers at her church working with youth. Fatigue is always a challenge, but Missy's eye sight keeps improving with the new meds now available to MS patients.
Bonni Sue Hickson has lived with MS for 46 years and is currently the manager of the MS center in Loyalton, CA. She helped organize the Wheelchair Tennis Foundation in Truckee, CA, along with the organization and tournaments in Reno Nevada. She's also a Registered Nurse that has given so much of herself to so many people. She currently has a future vision for Rplefct ("a ripple effect"), a 1,000 acre retreat center for the physically disabled, their families, and community. "We will be exploring consciousness studies, medicine, science, transpersonal psychology and the perennial philosophy of the ages," she said.
"The lesions on your brain indicate you have multiple sclerosis. I need you to set up an appointment for a spinal tap. I talked to your husband earlier. Didn't he tell you this?"
I heard the doctor on the other end of the phone but wasn't really processing it. When I hung up, I walked out to the barn. Anger, fear, and confusion all swirled in my head as I blurted out to my husband, "Why didn't you tell me the doctor called? Why didn't you tell me it was MS?" Tears filled his eyes - he couldn't answer.
The diagnosis of Relapsing Remitting Multiple Sclerosis was confirmed the next week. And, soon after, I found a Neurologist specializing in MS at the University of Texas Houston.
In the eight years since my diagnosis, life has carried on in its new "normal". I continued to teach for five years then made the painful decision to retire (though I'm entirely too young to be considered retired!). My body just couldn't keep up with the demands of teaching. But in the midst of quitting my career, my next calling unfolded before me.
I had created a doll when my youngest son, Casey, was a toddler that he carried around like a security blanket. It provided him comfort and a reminder that his daddy and I loved him. And throughout my years of teaching, I would take note of other children that could benefit from a doll like Casey's.
I decided to listen to God's urging and in 2009, made a line of angel dolls that would be donated to children enduring traumatic or stressful circumstances. My Heart Guardian Angel Dolls was born.
Since forming my nonprofit organization, 2,000 angel dolls have been donated to organizations, facilities, professionals, and families who care for, treat, or rehabilitate children in the hopes of providing comfort. Child advocacy agencies, pediatric hospitals, hospice, schools, and individual families have been recipients of My Heart Guardian Angel Dolls.
I have been blessed by all the places the dolls have been received. But one that is especially significant to me is The National Pediatric MS Center at Stony Brook Hospital. When Kyle Frederick from Band Against MS told me about Stony Brook, I had no idea that pediatric MS was so prevalent. I knew the issues I had dealt with as a result of the disease, and I couldn't imagine a child having to deal with it.
He put me in contact with Jo Biederman at Stony Brook who graciously accepted a donation of dolls that would be distributed to their pediatric patients. I plan on continuing to donate dolls for as long as Stony Brook is willing to take them!
Recently, Kyle told me about a young girl who had been struggling with her MS. I sent two dolls to her family; one for her and one for her older sister. Perhaps they will be able to cuddle with their dolls and find comfort.
I know the angel dolls don't cure children or change their circumstances. But my hopes are that children receiving the dolls understand that people love them and want to comfort them during their times of distress.
And though MS slows me down from time to time, I won't let it take away my purpose in life.
"Courage doesn't always roar. Sometimes it's the quiet voice that says I will try again tomorrow." -Mary Anne Radmacher
Learn more about Elin's organization, My Heart Guardian Angel Dolls by visiting their website www.myheartangels.org.
Elin Phillips
My Heart Guardian Angel Dolls
I will never forget the words spoken to me on that frigid morning on December 26, 2007. On the day after Christmas I heard, "You have MS, Trey." In an instant my whole world changed. I vividly recall the fear, anxiety, and sadness in my mother's eyes upon hearing the news from my doctor. While the doctor was explaining everything I just kept thinking there is no way that, at 22, I could have such a potentially disabling condition. It was too much for me to bear as I had to excuse myself from the room and went outside to cry.
While outside, I remember pleading with God and asking, "Why me?" My faith in God has been a huge part of my life, so when this happened I went to Him from the beginning with my questions and endless fears. I also began reflecting on everything that had transpired in the prior year leading up to this dreadful day. My first thought went back to when I was in Florida and the day I woke up with numbness in my right hand. All the memories of having to explain that something was wrong with me came back tenfold. I clearly remember how no one believed me, understandably so because of the mystery behind MS. They had said it was all in my head and that it would all resolve itself in time.
The next thought was how to deal with the new symptoms that were beginning to arise after my diagnosis. I began experiencing visual difficulties, balance issues, fatigue, numbness in my legs from the calf down, tingling in my feet and sensitivity to heat.
My last thought was how in the world I was going to face this monster called MS head on and win. I have never quit in the past and, in my mind, this time was no different. My neurologist at the time got me started on Copaxone a few days after my diagnosis, and in a few months I began to see improvements with many of my symptoms. I thank her for choosing the right medicine from the start because I didn't want to take the others and experience all those terrible side effects! I feared the daily shot for the first week, but eventually came to the conclusion that it's not that bad. Sure it stings a little, but being proactive about my treatment was a much better option than sitting on the sidelines and letting MS run its course. Now, I have gotten used to the shot and it's part of my daily routine.
From the day of diagnosis forward, I started living a life filled with many questions and one that was much more unpredictable. It's much harder to gauge what is going to happen to me next, but I have come to realize even people that don't have an illness don't know what's going to happen to them next, either! So it's actually not that big of a deal.
Although MS has been hard to accept and deal with, to say the least, it has also changed my perspective on life. I have been given an eye-opening second chance to fully live. I consider MS to be a curse at times, but a huge blessing, too. From a diagnosis that I feared would end all of my dreams, something else has taken form. With the help of God; strong family and friend support; a positive attitude; an improved diet; my wonderful doctor, Ben Thrower, at Shepherd Center in Atlanta, Georgia; and his wonderful team have given me the perfect support system to combat this illness head on and win! These factors have helped to shape a new and better Trey.
When diagnosed I had quit singing and playing a guitar because it was much harder because of numbness, and I was afraid of losing my ability altogether. The wonderful news, though, is that I am back playing and singing again! The doors have been opening to play many places, and now I am playing more than ever.
A dream that on December 26, 2007, I thought may be shattered has instead begun to blossom two and a half years later. Now at 25, because I stepped out and took a chance even with MS, I have been blessed to meet country singer/superstar Clay Walker and actually got to open for him in Atlanta with a friend and fellow singer. I have also had the opportunity to play at Shepherd Center in Atlanta, Georgia, for people with spinal cord injuries and people with MS in the IV rooms. Most recently, I have played a cancer benefit concert and at different MS clinics around Georgia.
Now I am ready to help impact the world with my story, face and personality. Conquering MS and giving people hope has been a goal of mine since the day I was diagnosed. There is nothing more amazing to me than seeing someone smile and turning a hopeless situation into one of promise. I want to help people, especially young adults who are newly diagnosed, to realize life doesn't have to be over. I want to help them see the bigger picture and know that there is so much more for them than MS. As for me, I am going to keep pressing forward and believe that anything is possible if I put my mind to it. A good friend of mine always told me, "Live in your dreams, Trey." It's funny how it took MS to help me do just that.
Most of us have heard the credit card commercials that give the dollar value of certain items and then end with "priceless." Through my experiences, I have come up with my own little commercial that goes something like this:
Gas to get to the doctor ... $5; Insurance Co-pay ... $35; Prescriptions ... $50; Helping someone else who has just been diagnosed with MS ... Priceless.
Fifteen years ago when I was diagnosed with Multiple Sclerosis, I never would have dreamed that anything good could ever come from this disease. In a prison of my own denial and depression, I fumbled through years of ignoring what was happening to my body until the pain became so great that I could not pretend 'I was okay.' Accepting my illness led me on a journey of understanding that all things happen for a reason, and today as an Injection Training Nurse who teaches patients how to administer their own medicine, I realize that I was wrong about nothing good coming from this disease. Truly what I have experienced has been nothing short of phenomenal.
For those who have ever cared for a chronically ill person, or been chronically ill themselves, it is easy to see the intrinsic value of a good nurse. The impact of several nurses throughout my life has made me the person I am today, and gave me a career path that continues to reward and fulfill me. As a child, I suffered from severe allergies and asthma and spent most of my first years in grade school in and out of the hospital. Due to a limited income and no health insurance, I wasn't able to receive allergy injections as recommended, but God had put an angel in my path to see to it that I had the treatment I needed. The angel, or "Miss Bea" as she was affectionately called, was a nurse. "Miss Bea" worked in the doctor's office where I went when I was sick. When she learned that I wouldn't be able to come back for weekly injections, she took it upon herself to come to my home, every single week, until I was in high school. A warm smile and a thank you were her only pay, and she never asked for more than that.
As a sickly child, I missed a lot of school and, it seemed, a lot of other opportunities. Now, at 39, as I look back on my life, God has given me the ability to realize that many of those opportunities weren't really missed, but instead they were traded for other opportunities that the average person didn't have. My friends were taught to read by a teacher; I was taught to read by a nurse. I will never forget the book, The Little Engine That Could. I can't remember the nurse's name, but I still remember how her face lit up the first time I read the words, "I think I can, I think I can."
Multiple Sclerosis made its debut in my life when I was only 18. Barely high school graduates, my best friend and cousin, Melissa, and I were having the time of our lives. We had just returned from a summer trip from California when Melissa became ill. As her symptoms worsened and the doctors couldn't explain why, she was admitted into the hospital. A little over a week later, she passed away and we didn't know why. She was only 19 and I didn't understand how she could be gone in the blink of an eye. The thought plagued me until, four months later, the autopsy revealed that "Fulminating Multiple Sclerosis" caused her death. Then it plagued me even more. The doctors said they really didn't know what to call it, and Melissa's case was very rare. Neither I nor my family knew anything about Multiple Sclerosis (what we now commonly refer to as "MS") at the time. To us, it was the proverbial "elephant in the room." We never discussed it. Later, as my own journey unfolded, acknowledgment came, but it took me a very long time to come to terms with my deepest fear ... wondering if I would share Melissa's fate.
It was about three years after Melissa had passed away that my symptoms began to emerge. I was running into walls and tripping frequently, much more so than what could be attributed to being 'accidental.' Still, despite the onset of additional symptoms including blurred vision, fatigue, and strange sensations, I did not want to believe that there was something wrong with me. In a relationship I thought would last forever and attending college, I was very excited about the future. My own will power wouldn't allow anything to get in the way of my dreams. Over the next couple of years, as I was finishing nursing school, I attributed my increasing fatigue and dizziness to stress. As the symptoms progressed, I saw a doctor who told me I was hypoglycemic. I never mentioned Melissa.
I followed the doctor's orders and changed my diet. But instead of getting better, I seemed to be getting worse. My relationship that had been so promising was falling apart and, as a result, my health problems were attributed to depression. The recommended course of action was to end this relationship, reduce my stress, and take anti-depressants. Again, determined to be a "good patient," I did what I was told. Later, as I began losing sight in my right eye accompanied by severe pain, I saw an ophthalmologist who gave me a diagnosis of Optic Neuritis. He also recommended that I confirm his suspicions with an MRI.
I was not prepared to hear what came next. As the doctor read the report, I remembered Melissa. "Probable Multiple Sclerosis," he said. "Probable," I thought. "Probable is just probable. It doesn't mean I have it."
For some time I had been getting acquainted with 'denial' and in that moment it became my new best friend. Doctors seemed to want to confirm my diagnosis while I did everything I could to ignore it. I tried to hold onto the notion that it just couldn't be happening to me. After the ophthalmologist told me MS was likely, I sought another opinion from a neurologist. This doctor ordered a lumbar puncture to confirm what the MRI had shown.
Even though I couldn't accept that I might have MS, I couldn't deny the emotions welling up inside of me during this time. I felt like an outcast. I was scared and confused. One of my most vivid memories were the moments leading up to the lumbar puncture as I stood in a gown with my face against the wall, waiting for the procedure to be performed. The whispers of a medical student and my neurologist rang out in my head as if they were being announced across a loudspeaker.
"What does she have?" the student asked as if I wasn't in the room. "I think this is MS," the neurologist replied. To me it was like being in the grocery store and hearing, "Clean-up on Aisle Nine!" or "MS in Room Five!"
The results of the lumbar puncture came back negative, further reinforcing my denial. What isn't confirmed isn't absolute. My internal chant, "Probable is just probable," resurfaced even though this was the second doctor who was telling me it was likely. This was the early 1990's and I was told there were no available treatments. I denied this too and began my own search for treatment, ultimately finding only some experimental trials that I didn't qualify for.
After hitting this dead end, I gave up hope that I would ever find the answers I needed, but the symptoms did not go away. For the next several years, I not only dealt with the discomforts of progressing MS, I also suffered from severe depression. MS isn't just a disease that affects its victims physically. There is also a social component and a spiritual component to living with MS, besides being too tired to complete a full day of work. Who wouldn't ask themselves whether or not they could find a partner for a long-lasting relationship when faced with a lifetime of illness, and likewise, it is human nature to wonder why God would pick me for such a fate.
So I took my pills for depression and went on with my life. I worked as a nurse, married a wonderful man, and we started a family together. I had a wonderful pregnancy and nine months later, I held my first child, Miranda, in my arms. Life was good and for the first time in a long time, MS took a backseat in my consciousness ... but only for a little while.
Patients with MS tend to do well during pregnancy. The changes in a woman's body while another life grows and flourishes inside tends to create a feeling of well-being, masking the symptoms of MS, and creating a mental diversion. After delivery, however, is a different story. Often there is a crash that occurs and with a newborn child to care for, the physical and emotional impact can be devastating.
Not long after Miranda was born, I had a spell so severe that I couldn't get out of bed. As I lay there, having to accept help to take care of her, I made a decision that I wasn't going to be a victim any longer. I had to accept that I had MS and had to learn how to deal with it. My frequent trips to the Emergency Room had afforded me the label of a "drug seeker," and it was on one of those trips that I admitted for the first time that my symptoms might be caused by MS. The doctor, who had been cold and harsh previously, looked at me with compassion after the words, "Do you think this could be caused by MS?" sheepishly came from my lips. He urged me to seek help. Somehow this caused a turning point in my attitude, which then led to a new journey, learning how to deal with MS in my life. I traded in my old friend "Denial" for a new best friend, "Hope."
While I still have occasional flare ups and deal with depression some of the time, I am able to live a fairly normal life as a working wife and mother. Best of all, the culmination of my experiences sparked a desire to use my nursing skills and my experience of living with MS to help others who share this disease. Through working with support groups, I am able to share my story and encourage others. As an injection training nurse, I travel to the offices of many different doctors to meet and teach newly diagnosed patients to teach them how to administer the injections. These sessions also give people who have been recently diagnosed with MS an opportunity to talk one on one with someone who has lived with the disease for many years and find out what it is like on a daily basis. What I teach them clinically is important, but what I am able to share emotionally and spiritually is as much therapy for me as it is for them.
Although I was told I shouldn't have any more children, I did. Emma is now four years old. Having found a good doctor who could answer all my questions and reassure me that I was choosing the right treatment to manage my disease made all the difference in the world and in my life. Not surprisingly, it was a nurse who suffered from MS herself that finally opened my eyes to realize that I had this disease, but it didn't have me.
I haven't had a relapse in six years. I am involved in an MS advocacy group where I share my story with other patients around the country and constantly look for other opportunities where I can use my experience to help others. Today, I am the nurse who reads The Little Engine That Could to my own children, and as I say the words, "I think I can, I think I can," I am reminded of the moral of the story...that sheer will power, faith and positive thought can change lives. I am that little engine that could.
Yogi Berra, the Hall of Fame catcher for the New York Yankees, once gave directions to a friend by saying, "When you come to a fork in the road, take it." Despite the seeming contradiction, in reality the directions made perfect sense and contained a great deal of wisdom. Either path led the traveler to the same desired destination.
Ten years ago, I approached a similar fork in the road in my life. As chairman of a busy inner-city emergency department in North Philadelphia, my professional life was fueled by adrenaline rushes and administrative challenges. Patients with heart attacks, gunshot wounds, broken bones, and drug overdoses were a part of my everyday life. So, too, were seemingly endless meetings and frustrations with trying to provide patient care to the underserved along with student and resident education all within a financially viable framework, which was increasingly difficult in the world of modern healthcare. My life was filled with pressure from all sides, and all too often that pressure spilled over into my home life as husband and father of four beautiful children, ages thirteen to one.
One night I could not sleep. I went downstairs to the living room couch and dozed off, only to be awakened by the sudden onset of pain and numbness in my right leg. It lasted a minute or two, and then left as suddenly as it had arrived. Over the next two weeks, these attacks occurred nightly, each time worsening to involve not only my leg, but also my torso, right arm and hand. During these attacks the right side of my body was totally useless, but suddenly returned to normal after a minute or two. Three weeks after the first attack my life, was forever changed by the words "multiple sclerosis."
Treatment began immediately, followed shortly thereafter by severe clinical depression and a five-month medical leave of absence from work. Despite attempts to return to clinical and administrative work over the next two years, I was unable to do so and forced to resign my position. At the age of 43, I was lost and felt like I had nowhere to go.
With a great deal of help from my wife, Wendy, I came to understand that what I missed most was not so much my job, but rather the notion of service to the underserved, especially those residing in North Philadelphia. My new path led me to Dawn Staley. Dawn is a three-time Olympic gold medalist in basketball, a WNBA legend, and head coach of Temple University's women's basketball team. More importantly, however, Dawn is president and founder of the Dawn Staley Foundation (DSF). DSF provides at-risk youth from North Philadelphia the opportunity to dream their own dreams and to become productive members of society. The foundation accomplishes this mission through an after school program for middle school aged girls, providing academic tutoring, reading assistance, computer education, health and fitness training, and community service projects. Nearly ninety percent of participants improve their grades in school, and all of the girls learn the meaning of 'giving back' by annually serving a Thanksgiving meal to 150 women and children at a local homeless shelter. My role in DSF is simple; I am co-chair of its board of directors and a passionate supporter of its mission.
Ten years after approaching that fork in the road in my life, I now understand that multiple sclerosis has provided me with an opportunity to take a different path in my life, but one with no less meaning and fulfillment than that of an emergency physician. I have made new friends and have been inspired by countless youngsters who face life challenges that are hard for me even to imagine, all the while reaching the same destination of helping people in need in North Philadelphia. I have even walked my daughter, Elizabeth, down the aisle at her wedding. In order to move forward in our lives with multiple sclerosis, whether we have the disease, live with or care for someone with it, or know someone affected by it, we must face the fork in the road with resilience and character.
Taking the path least expected may not have been our original choice, and it undoubtedly will be filled with difficult challenges and obstacles, but it also provides the opportunity to live our lives with resilience, courage, and character. We all have the ability to reach our destination; we simply must be willing to "come to the fork in the road, and take it."
Our daughter's name is Julia Rose. She is now 5 ½ years old. Her much anticipated birthday is April 23, as we cherish every year God has blessed us. Julia was born a healthy six pounds nine ounces. She never had any health issues until that dreadful day on July 21, 2006. It was a Friday morning, and we, the family, were anticipating a long summer weekend filled with pools, parks, and fun. Julia awoke and her left eye was drooping slightly. Two weeks prior she had fallen and hit her head on the corner of the coffee table right between her eyes. A week later she fell on her head again while vacationing in Pennsylvania. The typical rambunctiousness of a healthy active three-year-old.
At the time we were cautious but not overly concerned, until the morning of July 21st. We naturally assumed that those two accidents combined had resulted in something much more serious. We immediately called our pediatrician and sought an appointment for the following morning. The doctor immediately recognized something was seriously wrong and referred us to a neurological ophthalmologist, Dr. Caryn Pearlstein located in Staten Island, New York.
At this point we were thinking the head traumas might have caused some damage to her optical nerves and she would have to wear some corrective glasses. The moment the specialist saw her, she too knew this was something different and very serious. She sent us to Staten Island University Hospital where they conducted a cat scan and an MRI. By Sunday morning things had gotten somewhat better. She stopped throwing up. An eye patch was put on to help with the nausea and we were sent home.
Monday morning she began throwing up uncontrollably and her right eye began to droop. I called her pediatrician, and he had us take her for blood work initially thinking Lyme disease. Tuesday evening, we received the results, negative for Lyme disease. Our pediatrician told us to admit her to the hospital Wednesday morning for further tests.
Wednesday morning. We rushed her to Methodist hospital and she was admitted into ICU. By this time she couldn't walk and her eyes were shut. She was deteriorating by the minute, and the hospital, to their credit, immediately performed an MRI, a brain scan and a spinal tap. On Thursday evening, they had a diagnosis, and our pediatrician was on his way. Our stomachs sank, and we thought this couldn't be good.
We were told she had encephalitis brought on by the common cold virus and there was nothing they can do. Her immune system was compromised and we were to hope and pray her body could fight it off. We were devastated. After the initial diagnosis, our pediatrician suggested she be sent to Columbia Presbyterian University for further tests.
Friday morning Julia and I were transported by ambulance to Columbia. The EMT who accompanied us looked at my helpless daughter, turned, and said to me, "I don't know what's going on but you better start praying." And that we did. When we arrived at Columbia, the doctors also told us if we were religious to pray. We requested our priest Father Joseph Fonti, and he graciously came down and prayed with us.
The next few weeks were filled with anticipation, uncertainty, and desperation. Julia was subjected to numerous tests, and another diagnosis was given. Guillian Barre syndrome. At this point her body completely shut down, her eyes were closed; her body was paralyzed including her face. She was given an IVIG treatment that didn't seem to help, numerous steroid treatments and finally a plasmapharesis treatment. She was developing lesions on her brain, due, they think, to the Guillian Barre. Because of these efforts she finally started to improve very slowly.
Three months in the hospitals, two weeks in a rehab facility, finally home on October 10th. She started talking again with extensive speech therapy, started to walk again with extensive physical therapy, and occupational therapy to re-learn just about everything.
Doing well.
December 2006

Relapse.
She started walking funny and losing her balance. New lesions were forming on her brain. Back to Columbia hospital for a new round of steroid treatments to shrink the lesions. Spent Christmas Eve in the hospital that year. At this point they were saying the Guillian Barre led to a neurological disorder found in children called A.D.E.M. They released us on Christmas Day. She was doing well and getting better.
Middle of March another relapse, on March 12, back to Columbia for another round of steroid treatments. At this point we were referred to Dr. Lauren Krupp, an M.S. specialist. She explained to us the relapses she keeps having are signs of MS, but it was very rare for a child this young with MS so they weren't quite sure. She was subsequently diagnosed with Chronic A.D.E.M., because of her frequent relapses not normally found in typical A.D.E.M. After the sixth relapse, on July 24, 2007, we were to administer steroids at home. Dr. Krupp also prescribed MS medication to protect her brain from the relapses that could cause serious damage to her brain.
She started out with a weekly shot of Avonex. On Fridays she would get the shot and become very ill. Staying up all night with severe flu like symptoms. After four months of this treatment it started affecting her liver and thyroid and she was switched to Copaxone, which is a daily injection. She has been on Copxone for over a year now and it seems to be working and agreeing with her. She is doing well on an everyday basis. She is in kindergarten and in dance class once a week; she plays T-ball and stays active like any other child her age. She still has her days, but she is coping, and the shots are becoming an acceptable inconvenience. Julia will be six, on April 23, so sometimes it's hard to understand how she feels because she doesn't understand herself but as a family we do the best we can.
Right now we think she is past A.D.E.M., and Chronic A.D.E.M., but there still lingers the possibility it is MS. Because she is so young, Dr. Krupp feels there is a possibility she can grow out of it. Despite Julia's illness she doesn't let it define her, nor do we.
With the love and support of family and friends, my husband Jimmy, our 8 year old daughter Brianna, and Julia are dealing with her illness and hope for the best for her future. Dr. Lauren Krupp and her medical staff have been a constant in our life. They have helped us to understand a lot more about Julia's condition. I have to specially thank Maria Millazzo for always being there when we need someone to talk to. We can't thank them enough for all they have done for us.
Thank You
The Russos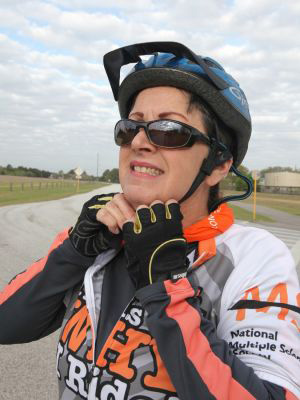 Vicki Williams
I would like to nominate my wife as a BAMS hero. She was diagnosed with MS in 2009. She has ridden in 16 MS 150's prior to diagnosis. She is also a ride Medic. She continues to volunteer and strive forward against MS. She also rides as a medic when her health allows and will ride as a medic in the upcoming ride in Hockley TX. She tries not to let MS get her down. I have included a pic from last year. James E Williams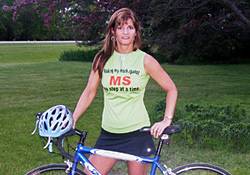 Sheri Paulson
To relate to my story, you need to understand me.
My parents were divorced when I was 7 years old. My Dad was in the military and traveled all over the US and abroad. Following the divorce my Mom made the decision to move us back to the Midwest. My Mom worked very hard as a single parent working 2 to 3 jobs at a time. Although I was the 3rd child out of 4, I took on the care taker role naturally, and was nicknamed Mother Hen. Both my parents exemplified that through hard work anything was obtainable. I was the first to graduate from college in my family.
I married Alan my high school sweetheart at the age of 18, and we have now been married for 22 years. Once I obtained my career we made the decision to start our family. This decision took us through 5 years of heartache and pain. Our first pregnancy ended in a miscarriage. Our second pregnancy was difficult, as I was very sick and suffered from borderline toxemia and diabetes. However in July 1989 we were blessed with Amanda, our beautiful and healthy baby girl.
On September 20, 1993, after another difficult full term pregnancy and 3 days of labor, we were anxious for the arrival of our second child. We were heartbroken when during the delivery the doctors discovered our beautiful Pamela had a fatal birth defect, and there was nothing anyone could do to save her. We waited a year to try again, only to have all 3 pregnancies end in miscarriages during the first trimester in that year. Our hopes and dreams of our perfect family were shattered. Shortly after this I was blessed with a "God Wink" (a coincidental intervention from God). While visiting a cemetery I was drawn to a tombstone. The tombstone had a large and small heart, inside of the hearts was a Mama horse and a baby horse that were nuzzling their noses together. In reading the tombstone I learned the story of a mother and her daughter both dying during birth.
I knew this 'God Wink" meant that is was time to give up my dream of more children, to not look at the glass half empty, but rather half full. I knew God was with me, and that I probably was not supposed to have any children; however he had blessed us with Amanda. Our faith in God, love for each other, and the support of our family and friends sustained us, and helped us to heal from this heartache. We made the most of each day and the years flew by. In honor of our 15th wedding anniversary we took a 4 day cruise to Mexico. We enjoyed horseback riding, snorkeling, dancing the night away and spending hours in the outdoor hot tub viewing the most breathtaking sunset we had ever seen. We were so happy.
The very next day our world was turned upside down. I woke up completely groggy and tired. I thought, I must have had too much fun. While trying to take the steps to breakfast my legs felt so heavy and swollen, I could barely lift them. It took an enormous amount of energy to get up the stairs. Upon returning homes things worsened as I was having trouble sleeping, had numbness and tingling on my left side and was trembling. We feared I might have caught some virus in Mexico. We spent 2 months attending doctor appointments and hearing speculations on what could be happening to me. Some doctors said it was all in my head, and that I was fine. What was a physical challenge now became an emotional challenge. Was I just imagining all of these strange symptoms?
Then through an ER doctor "God Winked" and brought us to Dr. Garnaas, a neurologist whom we call our guardian angel. I told her I would not go over my symptomatic issues, but rather wanted to share the development of my days. She listened intently and asked for input from Alan. She performed sensory and balance tests on me. She shared her suspicions of MS with us. She wanted to do some further testing for certainty, so I had a spinal tap and an MRI of my spine and brain.
On April 20, 2001, the test confirmed the suspicions; I heard the words "You have MS." At first, it was a relief to finally have a name for what was going on with me. This however was soon replaced with anger, fear and depression. I cried for 4 days straight, all I could think was the worse, I feared being confined to a wheelchair for the rest of my life, unable to walk, dance or enjoy activities with my daughter. At one point I was driving home from work on a gravel road, and my head was filled with thoughts of how easy it would be to crank the wheel and lose control of my vehicle. I was angry; at 33 I felt like I was being cheated out of life.
I immediately started a week of IV treatment of steroids and during my last treatment, "God Winked" upon me again; he brought Susie into my life. Susie's smile radiated the room and the twinkle in her eyes was contagious. Susie had been living with MS for 30 years. When she was first diagnosed experimental treatments were only available via the lottery system. Susie felt she was doing good, and unselfishly declined the treatments for someone who needed them more. In recent years her MS had progressed, she was confined to a wheelchair with no movement in her legs, she had limited movement in her arms and had difficulty speaking and swallowing. She shared with me that giving up her chance for treatment was her biggest regret in life. Despite her struggles, Susie still offered me Hope!!!
When I met with my doctor to discuss what next, I had no doubt in my mind I would go on the treatment that might reduce the progression of disability with my MS. "To live today with NO regrets, not to look back and say I wish I had done that, but say I am glad I did." In time I started regaining my strength and energy. I started being more optimistic. I researched information on MS, and became knowledgeable. Knowledge is Power and most importantly I learned how to help myself.
I had to learn that my energy should be compared to a checkbook. And no matter how much you wanted to contribute, you could not give to everyone. I had to learn how to say "NO" and not feel guilty about that. I had to take care of myself first. I had to learn to listen to my body, and that when it was tired I needed to rest. That my family and job would be o.k. if things were delayed, that the housework and dishes could wait, that plans can be rearranged.
I prayed hard, I bargained with God that if he gave me 6 active years with my 11 year old daughter Amanda, until she graduated from high school, that I would accept whatever my fate was. I have now surpassed that 6 year milestone, and am on bonus time. MS has given me the appreciation of the things I used to take for granted. MS has taught me it is o.k. to be selfish to find the time to exercise, eat right and get plenty of rest. I have MS, but MS does not have me. My life has not stopped; I can keep living and still have big dreams and goals. When I was healthy I was inspired by my older brother Larry when he completed his first marathon, and then followed up with others. Now, the thought was really spinning in my head could I do this, and make a difference at the same time.
I firmly believe, "The happiest people don't have the best of everything, they make the best of everything." In the spring of 2005 I ran my first half marathon and raised funds for MS, that is how "Making MY mark against MS one step at a time" began. In appreciation of how well I was doing and as a thank you to all those that supported me, I wanted to give back. In the spring of 2006 with the love and support of my family and friends I completed my first full marathon. This was an accomplishment I did not believe I could do healthy, let alone with MS. I tell people I don't run fast, just far. The joy of the day will remain with me for the rest of my life. If my MS ever requires me to use the assistance of a cane, walker or wheelchair, I will proudly be able to show my Marathon Medal and say "I RAN A FULL MARATHON," & I am glad I did this. I completed my second marathon in October of 2007 at the Chicago Marathon, a marathon that became national news, as it had over 40,000 participants, experienced record breaking temperatures of almost 100 and sadly suffered one fatality.
Running has greatly enriched my life with new friends, some of which have formed the "Women High On Running" group. Running gives me a sense of freedom as I feel the wind blow through my hair and hear the thumping of my feet as they hit the pavement and enjoy the beauty and nature around me. Additionally it has given me an avenue to bring awareness for MS, while raising funds for a cure in the process.
To date I have completed 2 full marathons, 7 half marathons, a sprint triathlon, several 10k's and 5k's, am an MS Advocate Speaker, was honored at the 2006 North Central Chapter Achiever of the Year, have volunteered for many MS Events, served on the MS Walk committee and more importantly have raised over $13,000 for MS. My next goal is to bike 150 miles in 2 days, not once but twice. First in July for the 2008 ND "Ride the Wind" MS Bike Ride with Team Road Rash and then again in October for the 2008 Tennessee "Jack & Back" MS Bike Ride with Team BAMS (Band Against MS), Clay Walker's non profit charity. Additionally I will be doing the Average Joe Triathlon the end of June, the Great River Relay in August with 11 other women and possibly the Beardsley Half Marathon in September.
I have suffered 2 exacerbations since my initial diagnosis, I continue to struggle with fatigue, insomnia, vertigo, numbing and tingling on my left side and overall body trembling. I have to be cautious about overtraining and overheating. I have to make sure I am getting plenty of rest, and most importantly that I am listening to my body and know when it is not a good day to train or work out. I have to deal with the occasional side effects from my medication.
However, I will continue giving, as long as I AM able. I know personally that MY future movement is NOT a guarantee. I am blessed to be doing so well, and having a wonderful support system of family and friends. In appreciation of that I will do my part. It is my ultimate hope that with fundraising and continued research, one day we will live in a world free of MS, where no one will have to hear the words "You have MS" and fear what that means to them or their loved ones. Some say I inspire them, I don't think so. I am just one person trying to make a difference, offering hope to others. If along the way, my story touches someone, than I have achieved MY goal of "Making MY mark against MS one step at a time." I believe we all have the ability to somehow make a difference.
Meg & Kent Grosse And
Marie & Jamie Burks
"Your wife has MS." Those words hit like a sledgehammer. Meg was at the hospital with her family. Her dad had been admitted for numerous issues, and the prognosis was not good. I took the call from Meg's doctor and heard the words that we had dreaded hearing but deep down both knew were coming. As a firefighter and paramedic I knew just enough to be dangerous, and I had a feeling that Meg's numbness, extremity issues and growing fatigue all pointed at MS. It was almost closing time for our small business. As I was helping the last of our customers, it was all I could do to hold it together. I went to the hospital, got the update on my father-in-law, and then took Meg for a walk. How do you tell your wife she has MS? Believe me, there is no easy way. After some hugs and lots of tears, we quickly made the decision to keep this news to ourselves for the time being. We did not want the rest of the family to direct any attention away from Meg's mom and dad. Over the next few weeks, we balanced the neurology appointments, steroid treatments, running our business, my schedule at the fire department, and my father-in-law's failing health. Meg's dad lost his battle, and as things began to settle down we shared the news with the rest of the family. Support from our families made a big difference for us, but there was plenty of work to be done.
Being a typical guy, it took me several months to accept that MS was not something that I could just "fix." To be honest, I was feeling sorry for myself when one day I was reading an interview with Kay Yow. At the time, Kay was the head coach for the North Carolina State women's basketball team. Kay was asked how she could remain positive while battling cancer for the third time. She responded, "When life kicks you, let it kick you forward." After reading this, I knew I needed to take a different attitude.
As with most things, Meg was handling her diagnosis with much more grace than I was and was attacking her disease with a positive attitude. At one support group meeting, a fellow MS patient made the statement, "Why me?" Without hesitation, Meg smiled and replied "Why not you? Why not me? What makes us better than anyone else? We have MS, now it's up to us to do something with it." At that moment, I knew I had to do something and find a way to make a positive impact. I began searching the Internet and looking at different MS websites, and I stumbled across the Bike MS site. I thought this is perfect, I can do that—150 miles can't be that hard and this would be a great way to stay in shape for my career. At the time, I owned a low-end entry-level mountain bike. I quickly discovered this was not the way to ride 150 miles, so I bought a road bike and was hooked. I completed my first MS 150 in July 2007, and then followed that up with two more in 2008. In May 2009, I met Jamie Burks at the first of what I thought would be two more MS rides for the year. Instantly I knew there is no way I was going to be outdone by a cop; but, more importantly, my mission was just beginning.
Marie and Jamie Burks' Story

Spring 2008
As spring began approaching the Ozark Mountains in 2008, life for our family was right where we thought it was supposed to be. Then odd things started happening to my beautiful wife, Marie. She began having numbness and tingling in her hands and feet, sudden fatigue, and muscle and joint pain. Over the next several months, it rapidly progressed. These "episodes" began coming more often, along with multiple visits to multiple doctors. Then in March 2008, she had her first seizure while sitting in our basement watching a movie. Just a few days later Marie woke me up bright and early, very upset, and told me she could not see out of her left eye. After several more visits to several more doctors, with no answers, it was off to the Mayo Clinic in Rochester, Minn. It was there that she was diagnosed with MS, which was triggering bouts of epilepsy due to the lesion locations in her brain.
"Helpless" is the only thing I can remember feeling at that moment; however, that would soon turn to happiness I never knew we could have. Now before you think I'm crazy, bear with me and I'll explain the happy part in due time. I think the reason for feeling so helpless is partly due to my profession as a police officer. I have given an oath to "protect and serve," offering to put my life on the line for people I don't even know. Yet the one person I should be protecting most, I can do nothing to help cure.
Over the next few weeks, I began scouring the Internet for information on MS and came across the National Multiple Sclerosis Society's website. I noticed a Bike MS tab, and when I clicked on it the first thing I read was "One hundred rides. One destination. A world free of MS." It took me all of two seconds to decide this is what I was going to do—ride in all 100 Bike MS rides around the country raising money and awareness for MS. It's funny that I decided to do this because not only did I not own a road bike, but I had never even ridden a road bike. Sure I had a mountain bike and considered myself to be in good shape, but if you know anything about these rides a mountain bike is not what you want to ride. So with the help of two good friends, Dr. Marcia Preston of Preston Family Dental and Ashley Burchfield of Cycles Unlimited, I was off and rolling on my shiny new road bike.
I took on this challenge for two reasons: one, I can do something about this helpless feeling by actually doing something; and, two, I know I am not the person who is going to mix whatever chemicals together, or discover some gene, or whatever it finally takes to cure MS, but maybe I can inspire someone who does. This is where my good friend Kent Grosse comes in. In 2009 while riding in an MS 150 in Nebraska, I met of all people a firefighter named Kent and his lovely wife, Meg. We immediately hit it off by bashing each other's professions, which may seem odd to other people but fellow police officers and firefighters understand this type of behavior. I told him my plan of riding all 100 MS rides, and he was in without ever looking back.
Present Day
Have you ever met someone and it feels like you have been the best of friends forever? Well, that is exactly what we have found. One of the things that binds this friendship is our shared value of family. Before MS, we both felt like we had strong marriages, but through our shared experiences we have discovered that our relationships have grown even stronger. We don't sweat the small stuff, we appreciate our relationships as well as those around us, and we celebrate the small victories. So now you can see where the happiness comes from—it was finding something we had all along. We learned that you shouldn't wait for something like MS to make you remember what matters most—make time now to take your spouse on a real date like before you were married, go on a bike ride with your kids, talk about all of their dreams until you understand them as you do your own.
Badges 4 MS is the joint venture of the Grosses and Burkses that grew from this original challenge. Our mission is to ride in each of the 100 MS Rides throughout the county. Through this mission, we hope to raise awareness and much needed funds to find a cure. Every ride we take has a finish line. For those with MS, the only finish line is a cure. That's why we ride—we ride for the finish line!
Between both Kent and Jamie, they have participated in 26 rides across the country since they both decided to do something to help fight MS. In 2010 alone, they plan to participate in 12 rides throughout the year.
To learn more and follow along on our journey, check out the following sites: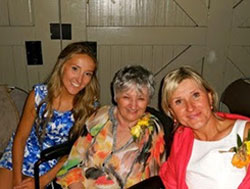 Angie Bennett
My hero does not wear camouflage or any kind of military insignia. She has never fired a weapon nor has she learned any self-defense techniques. My hero cannot throw a football seventy-five yards, run a 4.3 second forty, or perform a "pick-n-roll". If the fact be known, she has very little athletic prowess at all. My hero has never run into a burning building and rescued someone or saved a person from drowning (she is scared of water). She has never done any of the above. I am certain that you are wondering by now, how can she be considered a hero, athletic or otherwise? Well, my hero is my wife who battles a monster from Hell every day!. He looms over her, taking away the basic elementary activities that individuals perform in everyday life. I am confident that you are asking yourself, what kind of hellish monster would wreck this much havoc on a person's life? Well, this threatening demon is called MULTIPLE SCLEROSIS, a disease of the central nervous system that affects everything in the body - vision, coordination, balance, bowels, continence. In addition to the physical aspects, there is even more of a devastating emotional impact, including loss of pride and self-worth.
-By Al Bennet